German Kale Recipe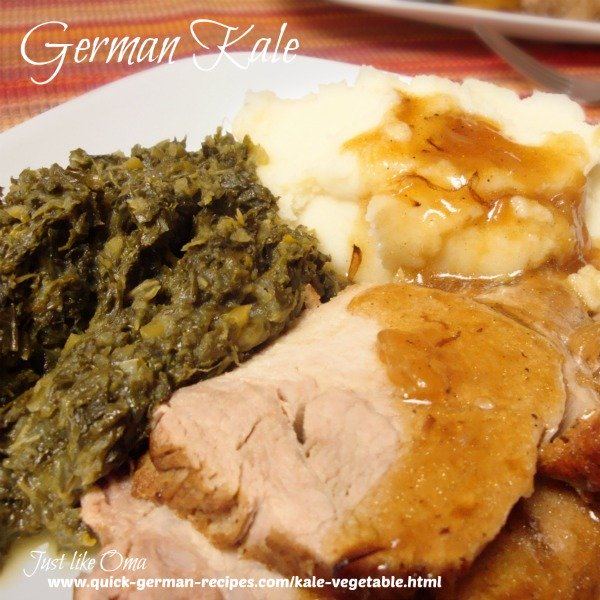 Yum
This traditional kale recipe, aka Grünkohl, is a hearty side dish for many German dinners. Kale is a vegetable with a very earthy taste. It goes great with other hearty dishes. It just needs to be cooked properly! It's great if you buy it canned or jarred. It's so easy to prepare then. If you have fresh kale, check below how to prepare and cook it. If it's not done properly, kale has a tendency to be tough and bitter. 
Since kale is such a nutritious and healthy vegetable, it's great to be able to cook it so the whole family will enjoy it. 

---
German Kale Recipe

Ingredients:
2 to 3 lbs kale (fresh) or use jarred/canned kale (drained)

1/3 cup lard, goose fat, or butter

1 onion, diced

1/2 lb bacon, diced

salt to taste
l lb. sausage, smoked and pierced with a fork in several places (optional)

1 Tbsp rolled oats or cornstarch (to thicken)

Instructions:
Prepare kale, (blanching and chopping finely) - see below for more info.

Melt lard, goose fat, or butter in a large saucepan.

Add onion and saute lightly. Add bacon and fry briefly.

Add kale, about 1/2 tsp. salt, a little water and sausage (if using)

Cover and cook on low heat about 1 hour. Make sure it doesn't dry out - add more water as needed. (Cook until kale is tender). If using canned or jarred kale, cooking time is about 5 - 10 minutes.

Thicken cooking liquid by adding rolled oats (the traditional way) or dissolve cornstarch in a bit of water and add enough to thicken, stirring constantly.

Season with additional salt and pepper to taste. Makes 4 - 6 servings.
Hints:
If desired, mix finished kale with mashed potatoes. This is so delicious and a favorite among kids (and adults)!
---
Here's How to Use Fresh Kale ...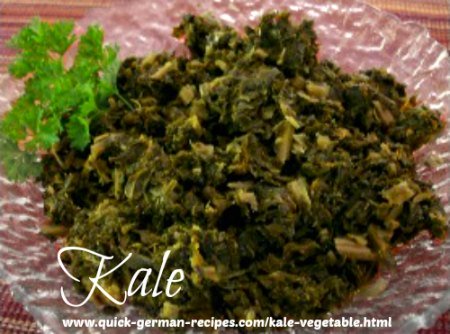 Blanching is important.
Wash leaves well.
Trim stalks and ribs from leaves.
Immerse leaves briefly in boiling water.
Then, drain well.
Finely chop blanched kale. 
Then continue with recipe above.

Entice your kids to eat kale ... this yummy way ...
Germans have a great way for enticing their kids to eat these greens. They often mix the cooked kale with mashed potatoes. Really! 
Kids will eagerly enjoy their veggies when they are prepared this way.

---
More German Cabbage Recipes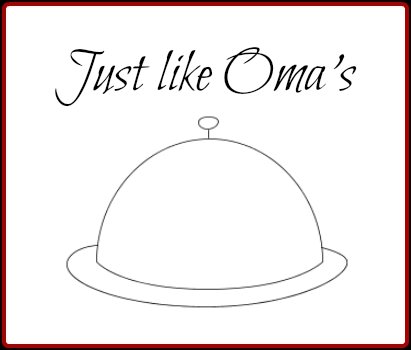 Kale Soup & Kale Casserole - several recipes to try
---
More German recipes ...
---
*  *  *  *  *

Want nutritional information for a recipe? Copy and paste the ingredient list and the number of servings into Calorie Count. It will give you an approximate calculation.
---
---
---
Get your FREE poster ... Herbs & Spices in the German Kitchen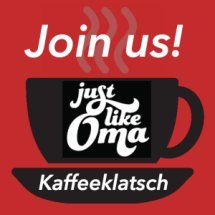 by Subscribing to my FREE Newsletter ...

Just like Oma ~  Kaffeeklatsch*
*Kaffeeklatsch: /ˈkafeːˌklatsh / (noun) an informal gathering for coffee and chatting
Experience Germany: food, people, country, & RECIPES!

---
---
---
German Recipes

›
Vegetables
› Kale Vegetable
Words to the Wise
"Wise words satisfy like a good meal; the right words bring satisfaction."
Proverbs 18:20 (NLT)