Stewed Plums and Vanilla Pudding
by Donna
(Ottawa, Canada)
I got this from my mother-in-law in Germany and have been making it ever since.

Quick and easy!

I am a Canadian with Romanian parents, who married a German. We have a Greek son-in-law, so needless to say, the table on holidays is quite a mixture- perogies, spanikopita, baklava and Black Forest and everyone digs in.

I love to cook and have learned a lot from our German friends.

Stewed Plums and Vanilla Pudding



Stew approx. 1 or 2 pounds of Italian plums (the ones used for phlammekuchen) with 1/4 cup sugar (adjust to your taste)

Pour in a bowl once they are cooked and a beautiful red colour.

Make a Dr. Oetker vanilla pudding asp the directions and as soon as it's done, pour that in the middle of the warm plums. It should go to the bottom with the plums sitting on top.

Once it's cooled, it's ready to eat. You don't need anything more!!!
Enjoy!
Donna from Canada
***********
Thanks, Donna, for sending this wonderful recipe in. It does bring back memories of what my Mutti used to make. I think she used dried plums (prunes) to make something similar. Not sure if in your recipe you are using fresh or dried, but I think both would work.
I love the idea of using a vanilla pudding ... makes this quite easy.
I recall my Mutti serving this with a type of seminola ... Cream of Wheat ... either as a thick pudding or, in fact, now I do remember her also making a type of seminola dumpling to serve with the stewed plums.
I really do love how old recipes bring back memories. You've done that for me, Donna, with this recipe. I hadn't thought about this for a long, long time. My Mutti died quite a few years ago ... and with her, a lot of her recipes. It is fun trying to recapture them though ... Danke!
Tschüss,
Gerhild :)
Leave a comment about this recipe or ask a question?
Pop right over to my private Facebook group, the Kaffeeklatschers. You'll find thousands of German foodies, all eager to help and to talk about all things German, especially these yummy foods. 
I pop in all the time as well, to chat and to answer questions. 
Meet with us around Oma's table, pull up a chair, grab a coffee and a piece of Apfelstrudel, and enjoy the visit.
Thinking of starting your own Handmade Business?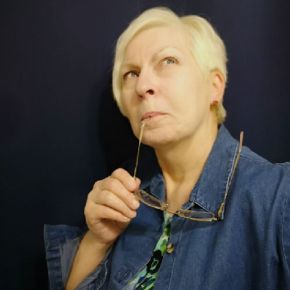 This Oma KNOWS you CAN do it.
How do I know?
Well, if I can do it, anyone can.
I've even figured out how I can help you.
I've teamed up with my own business coach, Renae Christine (yes, do google her!), to bring you this free workshop. After you watch it, ask me any questions and I'll gladly answer them.
Don't hesitate. I'm not sure how long Renae will keep this free workshop available.
PS:  Yes, Renae really is as amazing as all the reviews say.
PPS: Yes, the course is for handmade items, but I've used it successfully for my cookbooks. I know others are using her methods for services, direct sales, and even a local ice cream bar & grill that's constantly selling out. You've nothing to lose by taking a look ... and a whole bunch to gain.