Sour Cream Plum Kuchen
by Heidi Lindberg
(Camrose, Alberta)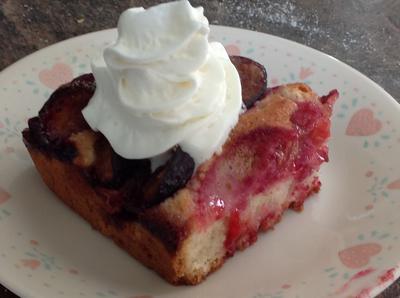 1 cup butter, softened
2 cups sugar
4 eggs beaten
1 cup sour cream
1 tablespoon lemon flavouring
1 tablespoon baking powder
1/4 tsp baking soda
5 cups flour

Preheat oven 350 degrees
Cream butter and sugar. Add beaten eggs and beat well. Add lemon flavour.
In a large bowl, combine flour, baking powder and baking soda.
Combine flour with creamed mixture alternately with the sour cream. Mix well to combine. Dough will be quite thick.
Grease and flour two 9 x 13 pans. Divide dough in half and spread evenly in the pan.
Wash and dry about 2 pounds of prunes. More may be needed. Cut then in half and stand then up close together in the pan.
Spread with sugar, cinnamon and Minute Tapioca ( I used 1 cup of sugar, as much cinnamon as you like and about 1 tablespoon of Tapioca)
Bake in 350 degree oven for approximately 1 hour, or until toothpick come out clean.

Please note: I did not have enough sour cream to make 1 cup. I only had 1/2 cup, so added 1/4 cup full cream and 1/4 cup milk.

Leave a comment about this recipe or ask a question?

Pop right over to my private Facebook group, the Kaffeeklatschers. You'll find thousands of German foodies, all eager to help and to talk about all things German, especially these yummy foods. 
Meet with us around Oma's table, pull up a chair, grab a coffee and a piece of Apfelstrudel, and enjoy the visit.