Sour Cream Plum Kuchen
by Heidi Lindberg
(Camrose, Alberta)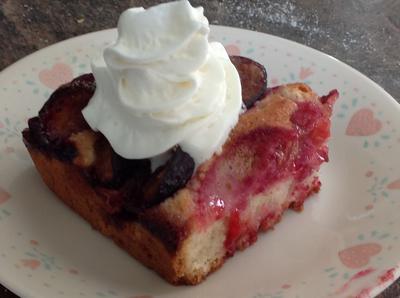 1 cup butter, softened
2 cups sugar
4 eggs beaten
1 cup sour cream
1 tablespoon lemon flavouring
1 tablespoon baking powder
1/4 tsp baking soda
5 cups flour

Preheat oven 350 degrees
Cream butter and sugar. Add beaten eggs and beat well. Add lemon flavour.
In a large bowl, combine flour, baking powder and baking soda.
Combine flour with creamed mixture alternately with the sour cream. Mix well to combine. Dough will be quite thick.
Grease and flour two 9 x 13 pans. Divide dough in half and spread evenly in the pan.
Wash and dry about 2 pounds of prunes. More may be needed. Cut then in half and stand then up close together in the pan.
Spread with sugar, cinnamon and Minute Tapioca ( I used 1 cup of sugar, as much cinnamon as you like and about 1 tablespoon of Tapioca)
Bake in 350 degree oven for approximately 1 hour, or until toothpick come out clean.

Please note: I did not have enough sour cream to make 1 cup. I only had 1/2 cup, so added 1/4 cup full cream and 1/4 cup milk.

*  *  *  *  *
Want nutritional information for a recipe?
Copy and paste the ingredient list and the number of servings into Calorie Count. 
It will give you an approximate calculation.

*  *  *  *  *
Need help doing conversions between cups and grams or any such thing?
Use this site to give you all the different conversions for the different types of ingredients. 
*  *  *  *  *
---
---
Words to the Wise
"When people do not accept divine guidance, they run wild. But whoever obeys the law is joyful."
Proverbs 29:18 (NLT)