Rolladen and Eier Likor
by Christel Schmidt
(Campbells Bay, P.Q., Canada)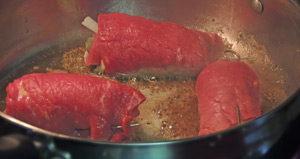 Browning Rolladen
"This was what our mum would make every Christmas Eve, we still carry this tradition on."

Ingredients:



8 thin round steaks

1/2 small tin of tomato paste

1/2 c. dijon mustard

12 slices bacon cut in half

black pepper

2 medium onions quartered

4 small dill pickles cut in half

Instructions:


Spread tomato paste on each steak and top with dijon mustard.

Place 3 pieces bacon strips on top. Sprinkle with black pepper.

Place a piece of pickle and a piece of onion at one end and roll up, securing with toothpick or string.

Brown on all sides in pan with a bit of oil. When all sides are browned, cover with water, bring to boil, turn temperature down and simmer 1 hour (covered) till meat is tender.

Remove Rolladen from liquid, taste, add salt if needed and thicken with flour and water. Makes a delicious gravy.

Eier Likor (egg nog)
"
The longer this sits, the better it gets. Our Oma used to make this after Christmas for the following Christmas. Store in a cool dark place.
"
Ingredients:


8 egg yolks

200 (1 cup) grams sugar

1 pkg. vanilla sugar

1/2 liter (2 cups) Brandy

Instructions:


Beat yolks with sugar and vanilla till doubled in amount

Gradually beat in Brandy

Pour into clean bottles

Prosst!
* * * * *
Congratulations, Christel! You are the grand prize winner for the 2012
Quick Christmas Recipe Contest
! I love rouladen, and adding the tomato paste is an interesting twist!
In the 1700's, Abacate, a refreshing drink made from avocados was discovered/created in the Brazil. To this was added raw sugar and rum. In 1876 in Antwerp, Belgium, egg yolks were used because of a shortage of avocados. The "eggnog" was born!
Eggnog is traditionally made with whipped eggs, milk or cream, and sugar. Liquors such as brandy, rum, whisky or vodka are often added. A final touch is a sprinkling of cinnamon or nutmeg.
In Germany, a real treat is an "
Eierlikörkuchen
". This is a type of pound cake made with eggnog, the alcoholic kind. One of the advantages of this cake is that it stays moist a long, long time. When the eggnog is added to the cake before it is baked, the alcohol is evaporated, and the cake is fine for children. However, some people also drizzle the eggnog over the baked cake. Then it's just served to adults!
Thanks, Christel, for sharing your family's recipe for this traditional drink.
* * * * *
Just a note to those who are unfamiliar with adding flour and water to a gravy to thicken it. Thoroughly mix some flour (about 1 - 2 tbsp.) with some cold water. Slowly add this to the boiling liquid, stirring constantly. This then needs to simmer at least 5 minutes for the gravy to thicken and the flour 'taste' to disappear.
Alternatively, you can dissolve about 1 - 2 tbsp. cornstarch in a bit of cold water. Slowly add this to the boiling liquid. This thickens immediately, so it is easy to gauge how much to add. This does not need to cook; it's ready to serve right away.
Thinking of starting your own Handmade Business?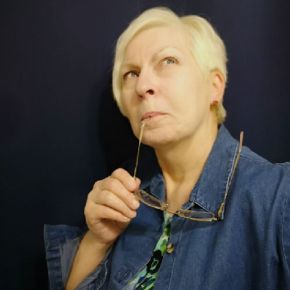 This Oma KNOWS you CAN do it.
How do I know?
Well, if I can do it, anyone can.
I've even figured out how I can help you.
I've teamed up with my own business coach, Renae Christine (yes, do google her!), to bring you this free masterclass. After you watch it, ask me any questions and I'll gladly answer them.
Don't hesitate. I'm not sure how long Renae will keep this free masterclass available.
PS:  Yes, Renae really is as amazing as all the reviews say.
PPS: Yes, the course is for handmade items, but I've used it successfully for my cookbooks. I know others are using her methods for services, direct sales, and even a local ice cream bar & grill that's constantly selling out. You've nothing to lose by taking a look ... and a whole bunch to gain.