Pfeffernüsse / Peppernuts
by Lynda Ollenburger Sangster
(Powder Springs, Georgia, USA)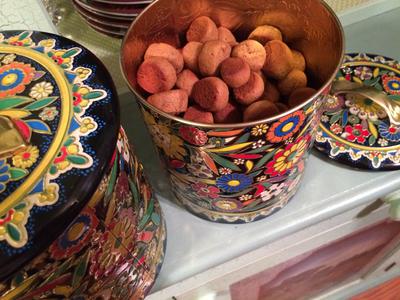 Pfeffernüsse – Marie Ollenburger's Peppernuts via Lois Ollenburger and her daughter, Lynda.

Marie was my dad's mother, my grandmother, and at our house, her daughter-in-law, my mother Lois, baked these every Christmas. I was told this recipe was actually my grandmother's mother-in-law's recipe, which places it in the mid-1800s.

My dad's favorite way of eating them was to float them in a cup of coffee and spoon them out. Milk worked for us kids. Some Pfeffernüsse recipes yield a frosted cookie. In our house, these were never frosted. They were little cookie bites, like nuts.

Yields several hundred 1" cookie bites
Ingredients:



1 c. shortening

½ c. sorghum syrup

½ c. molasses (dark syrup/honey or a combo of any/all OK)

1 c. sugar

1 egg

1 tsp. each: cloves, allspice, ginger, nutmeg, black pepper

2 tsp. cinnamon

½ tsp. salt

4-5 c. flour (Lynda's note - more than 6 cups used)

¼ c. water

1 tsp. baking soda

Grated rind of 1 orange

Ingredients:


Put the syrup & shortening in a dish and melt. While it is heating, mix sugar and egg in mixing bowl and add syrup and shortening mixture. Be careful not to curdle the egg with hot syrup/shortening.

Sift the spices with some flour (altogether, it will take about 5 cups, but start out with 3 or 4.) Add the flour mixture to syrup/shortening.

Stir in the baking soda dissolved in the water, and orange peel. Add enough flour to make a rolled cookie dough. Roll a bit of the dough -- if it holds its shape pretty well, it's ready to bake. If not, add more flour. Best to make the dough one evening, cover the dish and leave in a warm room overnight. Then bake the next day.

Roll the dough out into ropes, the thickness of your pinkie, sausage-fashion, cut in 1/3" pieces with a knife, place about 1" apart and bake about 350° (7-10 minutes) only light brown.

Notes:


Wonderful results using baking stone & parchment paper.

Heat the shortening/syrup mixture in the microwave until shortening just melts. The warming of the syrup/shortening is the secret to the perfect cookie texture.

Measure out the spices onto a plate beforehand, to make avoid forgetting any.

A microplane makes quick work of the orange peel.

A 76 oz./9.5 cup plastic container with snap-on lid makes a perfect overnight dough-keeper and helps keep the batch fresh as it's being worked.

Leave a comment about this recipe or ask a question?

Pop right over to my private Facebook group, the Kaffeeklatschers. You'll find thousands of German foodies, all eager to help and to talk about all things German, especially these yummy foods. 
Meet with us around Oma's table, pull up a chair, grab a coffee and a piece of Apfelstrudel, and enjoy the visit.