Oma's No Bean Chili ❤️

➤ by Oma Gerhild Fulson
Make this NO bean chili and listen to the compliments come pouring in. Not only that, but it's so easy to change up this recipe from a soup to a sauce.
Magnificent!
German? No.
Wunderbar? YES! 
Without the beans, this is a nice low-carb dinner. OR add a couple of cans of kidney beans (red or white) or your favorite types. 
Then, of course, this is no longer a "NO" bean version of chili, but a rather wonderful bowl of 'regular' chili! ... add extra spices if you want it HOT!

What makes these soups so wunderbar? They bring back such wonderful memories of my Mutti's kitchen. So, of course, I had to write my own soup e-cookbook to share with my grandchildren. I know you'll LOVE it, too!
There are 84 full-color pages filled with step-by-step instructions and hints. Take a quick peek ...
Sharing these soup recipes from my Mutti and Oma to my own young grandchildren ... that's such a delicious way to pass on our German heritage :)
A bit of this and a bit of that ...
The original recipe called for 1 lb extra lean ground beef and ½ lb cubed chicken breast. Tastes great as well.

I've used a mixture of lean ground beef, lean ground pork, and/or lean ground chicken. All work fantastic.
Add more or less of the veggies. You choose. Use various colors of peppers. Looks great with yellow and orange peppers.
Omit mushrooms (my hubby's favorite).
Use it just the way it is as a spaghetti meat sauce.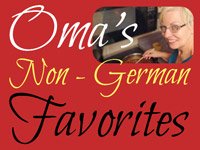 I call this my 'chili soup recipe' and found that it's the best way for someone to learn how to make chili.
I've altered it. I've experimented with it.
One recent alteration is that I use a bag of frozen Fajita mix ... a mixture of red, green, and yellow peppers and onions, already sliced.
The origin of this recipe comes from the Formula Diet (40-30-30) by Joyce & Gene Daust.
My husband and I loved this so much, it has become a fall-back when I need something just a bit low-carb.

---
Oma says,
I usually make a double batch of this bean-less chili and serve it all week. Thankfully, my hubby loves leftovers and this chili seems to taste better the longer it stands. :-)
I had unexpected company drop in one day and needed a quick dinner. I cooked some spaghetti and used this chili (thankful leftovers from the day before) as the sauce.
Along with a salad, it was a meal fit for a king!

---
Oma's No Bean Chili Recipe
Ingredients:
1½ lb lean ground beef
1 - 2 tbsp olive oil
1 cup chopped onion
2 cups chopped celery
1 cup chopped green pepper
1 cup chopped mushrooms
1 package (1½ oz) hot and spicy chili seasoning mix
28-oz can crushed or ground tomatoes
28-oz can diced tomatoes
6-oz can tomato paste
1 tsp salt
salt and pepper as needed
Instructions:
Brown ground beef in olive oil in a large saucepan.
Add remaining ingredients. Stir well and bring to simmer. If needed, add a bit of water (about 1 cup) if the chilli is too thick. Cover and let simmer about 1 to 1½ hours or until veggies are tender, stirring occasionally.
Season with extra salt and pepper if needed. Want it spicier? Add about ½ tsp crushed red pepper flakes.
Makes 8 servings

Want nutritional information? Copy and paste the above ingredient list and the number of servings into Calorie Count for an approximate calculation.
Need help doing conversions between cups and grams, etc.? Use this site to give you all the different conversions for the different types of ingredients. 
Leave a comment about this recipe or ask a question?
Pop right over to my private Facebook group, the Kaffeeklatschers. You'll find thousands of German foodies, all eager to help and to talk about all things German, especially these yummy foods. 
I pop in all the time as well, to chat and to answer questions. 
Meet with us around Oma's table, pull up a chair, grab a coffee and a piece of Apfelstrudel, and enjoy the visit.
*  *  *  *  *
Want nutritional information for a recipe?
Copy and paste the ingredient list and the number of servings into Calorie Count. 
It will give you an approximate calculation.

Need help doing conversions
between cups and grams or any such thing?
Use this site to give you all the different conversions for the different types of ingredients. 
---
PIN this ...
---
Looking for a German blueberry cake that's so easy to make and so delicious? Look no further. It's here!

This easy recipe for sauerkraut is a staple in our German menu. Delicious with almost anything! This sauerkraut recipe can also be made VEGAN!
---
Words to the Wise
"Only a fool despises a parent's discipline; whoever learns from correction is wise."
Proverbs 15:5 (NLT)