Mohnrolle (Poppy Seed Roll)
by Anna Perez
(San Antonio, TX)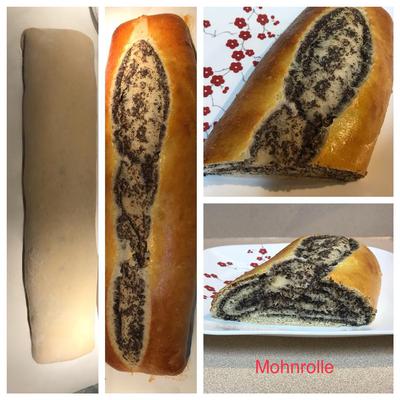 Mohnrolle (Poppy Seed Roll)
This is a Silesian recipe for a poppy seed roll.
A mix between a cake and a sweet bread. Not overly sweet however.
Good quality poppy seeds can be hard to find in the US, so instead of making the filling from scratch, a canned poppy seed filling (like Solo, at Wal-Mart and grocery stores) can be substituted, just add a bit of milk, to make it spreadable.
Poppy seeds should be ground but can be used whole, the filling will then be more "gritty".
I add ground hazelnuts or almonds and sometimes raisins, but all those can be left out.
When using lemon peel in the dough, also use it in the filling, same goes for the cinnamon. Either or, not both.

BEFORE ROLLING OUT THE DOUGH, give some thought to getting the finished roll onto your baking sheet without headache (for you) or damage (for the roll).
TIP: Roll the dough out so that one side of it is close to the front edge of your counter, so that when you roll it up with the filling inside, you roll from the back towards you. The complete roll, should sit at the edge of the counter. Then put your parchment covered baking sheet under the lip of the counter, brace it and just keep rolling until the roll ends up in the middle of the sheet, seam down.
Easiest way I have found to get rolls onto baking sheets, without lifting and squishing them.

g = grams
t = teaspoon
T = tablespoon
ml = milliliters
c = cups
mm = millimeters

INGREDIENTS for the DOUGH
250 g all purpose flour, sifted
1.5 t instant dry yeast
125 ml milk, warm
50 g sugar
1 egg
40 g butter or margarine, softened
1 t lemon peel or cinnamon, not both
1/2 t vanilla
1/4 t salt ( if the butter or margarine are salted, leave it out)

INGREDIENTS for the FILLING
250g poppy seeds, ground
75-100 g sugar
150 ml milk
1/3 c ground nuts
1/2 t. Lemon peel or cinnamon, not both
1/2 t vanilla
IF OPTING FOR THE CANNED FILLING, JUST ADD THE NUTS...OR NOT, AND A BIT OF MILK.

ALSO NEEDED
Flour for rolling the dough out
1 egg yolk mixed with 1 T sugar for brushing the roll before baking

FILLING PREP
1. Mix the milk with sugar and vanilla and bring up to the boiling point, then remove from heat.
2. Stir in the poppy seeds, nuts and peel or cinnamon.
Mix should not be runny but relatively stiff. Set aside to cool. Will get stiffer while cooling.
If it seems runny, add 1 T cornstarch or 2 T Cream of Wheat. Those will absorb some of the fluid and make the filling firmer.

DOUGH
1. Mix all the dry ingredients together.
2. Add all the wet ones to the dry and knead untill a smooth, soft dough ball forms and holds it's shape.
What you want is a smooth ball, that is not tacky (too wet) or has cracks (too dry).
When you press a clean, dry finger lightly into the dough, it should come away clean, with no dough adhering. Add more flour, 1 T at a time, if needed. Until that is the case.
If the dough seems crumbly or has cracks, add 1 T milk or water at a time.
3. Cover the dough in a bowl and let it sit in a warm, draft free place for 30 min. to rise again.

Cover a baking sheet with parchment paper and have it ready to go.

ASSEMBLY
1. Dust your counter lightly with flour.
2. Knead dough briefly to remove air.
3. Roll it into a 10x12" (aproximitely) rectangle, 5 mm (a bit less than 1/4")thick.
Long side paralel with the counter edge.
4. Spread the filling evenly over the dough, (if it sticks to the spatula or hands, wet them a bit). Leave 1/4" of both short edges, free.
5. Rool the dough up towards you, pinch the ends.
SEE EXPLANATION FOR GETTING IT ONTO THE SHEET AT THE BEGINNING
6. Make sure that the seam is on the bottom and fold the ends under.

SECOND RISE
Cover the roll with a clean dish towel and let rise in a warm, draft free place, for 30 min.

DURING THE 2nd rise preheat the oven to 350 F. and place the oven rack in the middle of the oven.

BEFORE BAKING
1. After the rise, brush the rentire roll with the yolk/sugar mix.
2. Use a sharp knife (or razor blade or bread lamé) and make a cut along the center, the entire length of the roll, through the first layer of the dough to the filling. Start at one end, a long, slow, even cut, without stopping, to the opposite end is best. NO SAWING
Making this cut is importanr to control where the dough breaks, when steam needs to evaporate. No cut and the dough will break where it wants to. No avoiding that, so might as well be in control.You could also cut VVVVVVVV for a more decorative break,

Bake until the roll is golden and firm to the touch. 30-50 min. depending on your oven, mine always take longer than I thought. But it doesn't hurt to start checking after 20 min...just in case.
Don't open the oven for the first 20 min, or you'll loose the rise.

Cool completely and enjoy.








Thinking of starting your own Handmade Business?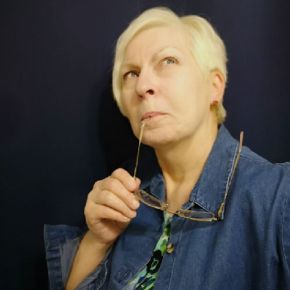 This Oma KNOWS you CAN do it.
How do I know?
Well, if I can do it, anyone can.
I've even figured out how I can help you.
I've teamed up with my own business coach, Renae Christine (yes, do google her!), to bring you this free masterclass. After you watch it, ask me any questions and I'll gladly answer them.
Don't hesitate. I'm not sure how long Renae will keep this free masterclass available.
PS:  Yes, Renae really is as amazing as all the reviews say.
PPS: Yes, the course is for handmade items, but I've used it successfully for my cookbooks. I know others are using her methods for services, direct sales, and even a local ice cream bar & grill that's constantly selling out. You've nothing to lose by taking a look ... and a whole bunch to gain.