Guglhupf meatloaf
by Ilka (aka Lucy on Facebook)
(Leipzig, Germany)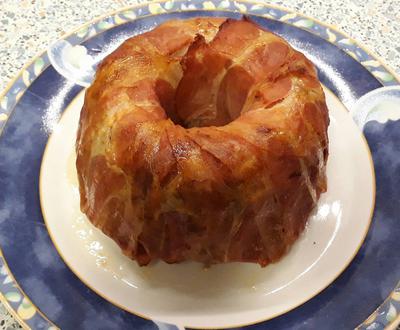 I had seen this one in a video on the internet a while ago and decided to give it a try using my own meatloaf recipe. I tried to translate it into English for you. hope, there are not too many mistakes in there. but please, convert the measurements yourself because I'm not particularly good at it. sorry!

this is what I used:

500g ground meat (half pork, half beef)
2 slices of toast (originally it's buns that are one day or older but we had already had ours for breakfast, so… ☺)
1 egg
2 teaspoons mustard
1 onion
parsley
salt, pepper, paprika (that's what the dictionary said ☺)

200g Schwarzwälder Schinken

my miniature Guglhupf tin (Ø 17cm)


this is what I did:

soak the slices of toast in water.
dice the onions.
put the ground meat into a bowl and mix it with the squeezed toast, the onion, the egg, the mustard, and the parsley, and season it to taste. you want to be careful with the salt though because the Schinken will become quite salty.

grease the Guglhupf tin. (this might not be necessary, but I was afraid I wouldn't be able to get the meatloaf out of the tin eventually) cover the inside of the tin with the slices of Schwarzwälder Schinken.

now the meat goes into the tin. spread it evenly and cover it with more slices of Schinken, so that the meat is completely wrapped in the Schinken.

bake the meatloaf for about 40 to 45 min at 200°C, then remove it from the tin to put it onto a plate and bake it for another 10 to 15 min.

we had boiled potatoes and green beans with it and used the juice that emerged from the meat as a kind of sauce.
Leave a comment about this recipe or ask a question?

Pop right over to my private Facebook group, the Kaffeeklatschers. You'll find thousands of German foodies, all eager to help and to talk about all things German, especially these yummy foods. 
Meet with us around Oma's table, pull up a chair, grab a coffee and a piece of Apfelstrudel, and enjoy the visit.