Griess Kloeschen
by Amy Tiara MacWatt
(Isle of wight,UK )
Griess Kloesschen
go with any Fruit compote..or if you add a little spice to the Griess,
they are a wonderful addition (as a smaller version) to any clear Soup..
I remember having them quite often..as in my childhood/Youth we never had the amount of meat on the table that seems around now.

my basic recipe for GRIESS KLOESSE is :
500ml Milk,
250 g GRIESS,
ca 1/2 teaspoon of salt,
3 to 4 Eggs,
ca 2 table spoons of butter.

Bring Milk,salt slowly to a boil,add the butter,stir in the GRIESS, making sure,you can lift it off the base of the pot,then you let this cool down,before you slowly add in the eggs.Keep an eye on the consistency,if too soft,leave out 1 egg, if too tough, I`ve before added a bit more warmed up milk.

Then you bring to a boil a pot of salted Water,to create your Kloesse,you do that in using a cup of hot water/ TABLE SPOON, this is close to making a Quenelle...: Dip the spoon in the water hold the spoon with the bottom up, place the edge of the spoon into the mixture, with the near edge close to the surface but not touching, and drag the spoon toward you. The mixture you're scraping should curl with the shape of the spoon. As you drag, twist your wrist up until the quenelle folds over itself into an egg shape.

After that you place Kloesschen in boiling water,when it looks ready to you,take out ,let dry before serving...with any fruit compote ...you can use same recipe to make smaller Kloesschen,to sit in a Soup, (clear..Rindfleisch/Bouillon..)with fresh chives.

A lovely addition to Griess Kloesschen is to add a couple of tablespoons of breadcums in some hot oil/butter in a pan,stir constantly to bind..lightly brown..and add your Kloesschen to the pan,swishing them around.
Guten Appetit!



Join in and write your own page! It's easy to do. How? Simply click here to return to Your Best Recipe.
Want to leave a comment about this recipe or ask a question?
Pop right over to my private Facebook group, the Kaffeeklatschers. You'll find thousands of German foodies, all eager to help and to talk about all things German, especially these yummy foods. 
I pop in all the time as well, to chat and to answer questions. 
Meet with us around Oma's table, pull up a chair, grab a coffee and a piece of Apfelstrudel, and enjoy the visit.
*  *  *  *  *
Thinking of starting your own Handmade Business?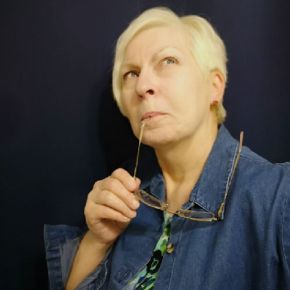 This Oma KNOWS you CAN do it.
How do I know?
Well, if I can do it, anyone can.
I've even figured out how I can help you.
I've teamed up with my own business coach, Renae Christine (yes, do google her!), to bring you this free masterclass. After you watch it, ask me any questions and I'll gladly answer them.
Don't hesitate. I'm not sure how long Renae will keep this free masterclass available.
PS:  Yes, Renae really is as amazing as all the reviews say.
PPS: Yes, the course is for handmade items, but I've used it successfully for my cookbooks. I know others are using her methods for services, direct sales, and even a local ice cream bar & grill that's constantly selling out. You've nothing to lose by taking a look ... and a whole bunch to gain.
*  *  *  *  *
Oma's Cookbooks (downloadable & print)
*  *  *  *  *
Want nutritional information for a recipe?
Copy and paste the ingredient list and the number of servings into Calorie Count. 
It will give you an approximate calculation.

Need help doing conversions
between cups and grams or any such thing?
Use this site to give you all the different conversions for the different types of ingredients. 
---
---
Oma's German schnitzel recipe (Jäger-Schnitzel) is great if you need something delicious that's quick to make as well. So traditionally German and so WUNDERBAR!

Learn how to cook pork hocks, anytime you want something traditionally German and wonderfully delicious! A hearty meal for any time of the year!
---
Words to the Wise
"When people do not accept divine guidance, they run wild. But whoever obeys the law is joyful."
Proverbs 29:18 (NLT)