Oma's Favorite Slow Cooker Recipes eCookbook
Get Oma's favorite German slow cooker recipes now, download right away, and you'll be enjoying your German meal tonight.
Using a slow cooker mimics the large iron pots used to sit on Oma's wood-burning stove for hours on end. Hours that red cabbage, sauerkraut, and kale loved.
Oma's put together her favorite slow cooker recipes, here, for you to enjoy.
Here's what you'll make with my help:
Beef Roast with Gravy
Mutti's One-Pot Roast Dinner
Oma's Goulash
Rouladen Beef Roast
Slow Cooker Rouladen
Bavarian Pork Shoulder Roast
Mock Kasseler & Sauerkraut
Mutti's Sauerbraten
Slow Cooker Ham
Green Bean Soup
Lentil Soup with Ham
Mutti's Split Pea Soup
Oma's Goulash Soup
Bavarian Cabbage
Traditional Red Cabbage
This is German food … made quick and easy … and extra delicious! AND, you'll find lots of Slow Cooker Tips that you can use for all your slow cooking.
There aren't any fancy methods or difficult procedures. Just follow the steps, one at a time, and you'll soon be serving German food that bring "oohs" and "aahs".

Since this eCookbook is immediately downloadable, you'll be able to start cooking right away! 
> THIS IS A PDF DIGITAL DOWNLOADABLE E-COOKBOOK. No physical book will be shipped or mailed. Price is in USD.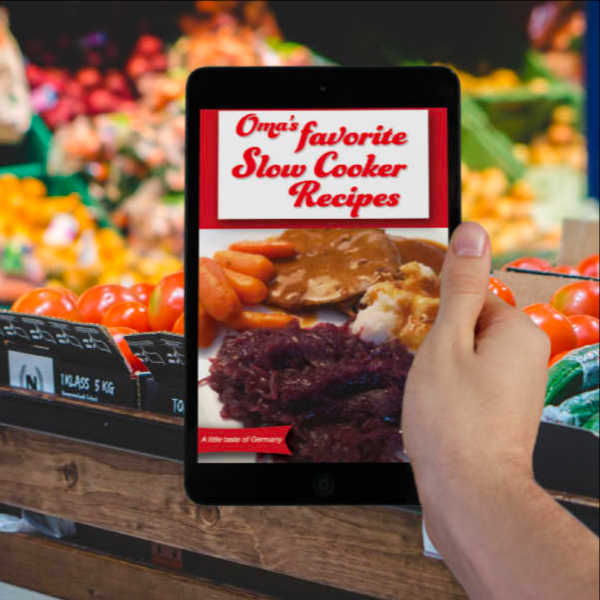 Oma's Favorite Slow Cooker Recipes eCookbook
$15.00

---
Many German recipes use ingredients only available in Germany. Since I don't live in Germany, having access to these isn't always easy. So, I experimented with my Mutti's recipes (many came from her hand-written notes) and made them with ingredients easily purchased at my local Canadian grocery store.

CRAVING MORE GERMAN FOOD?
These e-cookbooks, written in English, are the result. Since they are instantly downloadable PDFs, the moment you order them, you'll be cooking and baking just like Oma in no time at all! (Prices below are in USD.)
See them all in my new online store!