My Oma's Desserts: Easy German Recipes eCookbook
As the years have gone by, spending time with my Oma Gerhild in the kitchen, cooking and sharing lots of laughs, have always been some of my most cherished memories.

From when I was very young, baking was always one of my favorite activities. I loved amazing my family with the tasty desserts I would create with Oma, and now I get to share some of those with you!
I'm honored to be writing this ebook for you all to enjoy, so you can take a look at my Oma's recipes that have reeled our family in for seconds and thirds for years! My Oma's desserts are easy to follow and the results are worth everything!

Here's what you'll make: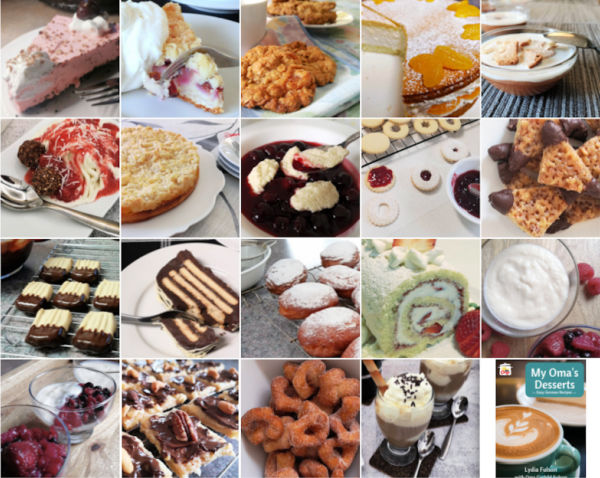 Erdbeer-Biskuitrolle (Strawberry Cream Roll)
Kalter Hund (No-Bake Chocolate Biscuit Cake)
Käse-Sahne Torte (Yogurt Mousse Cake)


Pflaumenkuchen (Plum Cake)

Rhabarber-Streusel-Kuchen (Rhubarb Crumb Cake)
 Schwarzwälder-Käsetorte (No-Bake Black Forest Cherry Cheesecake)

 Haferflockenplätzchen (Oatmeal Cookies)


Linzer Augen (Linzer Eyes)
Nussecken (Nut Corners)
Pekannusskeks (Pecan Bars)

Räderkuchen (Wheel Cakes) 


Sandgebäck (Sand Cookies)

Eiskaffee (Ice Coffee)

 Kirschsuppe & Grießklößchen (Cherry Soup with Cream of Wheat Dumplings)

Krapfen / Berliner (Jelly Donuts)
Rhabarbergrütze (Rhubarb Pudding)

Rote Grütze (Red Berry Pudding)
Spaghettieis (Spaghetti Ice)

Vanillepudding (Vanilla Pudding)
There aren't any fancy methods or difficult procedures. Just follow the steps, one at a time, and you'll soon be serving desserts that bring "oohs" and "aahs".

Since this eCookbook is immediately downloadable, you'll be able to start baking right away!
> THIS IS A PDF DIGITAL DOWNLOADABLE E-COOKBOOK. No physical book will be shipped or mailed.  Price is in USD.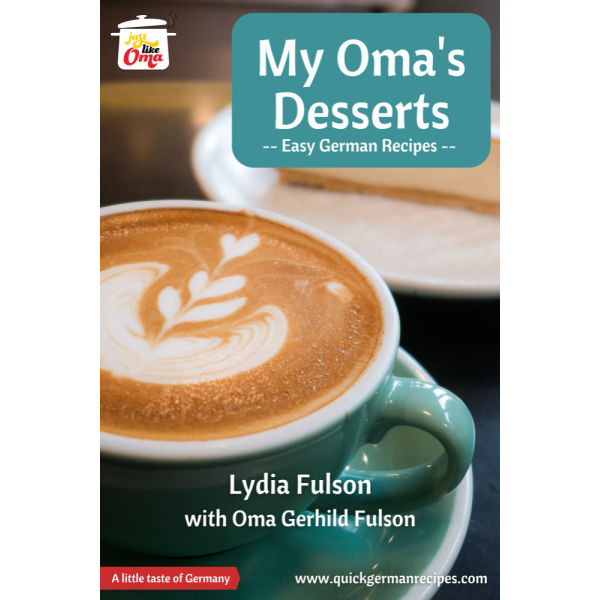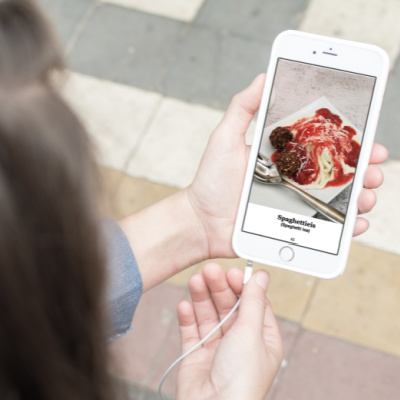 My Oma's Desserts: Easy German Recipes eCookbook
$25.00

---
Many German recipes use ingredients only available in Germany. Since I don't live in Germany, having access to these isn't always easy. So, I experimented with my Mutti's recipes (many came from her hand-written notes) and made them with ingredients easily purchased at my local Canadian grocery store.

CRAVING MORE GERMAN FOOD?
These e-cookbooks, written in English, are the result. Since they are instantly downloadable PDFs, the moment you order them, you'll be cooking and baking just like Oma in no time at all! (Prices below are in USD.)
See them all in my new online store!