Top 10 Favorite Pressure Cooker Recipes eCookbook
I finally gave in to online pressure! Everyone was raving about using the Instant Pot pressure cooker. Here are my TOP 10 favorite German recipes made under pressure.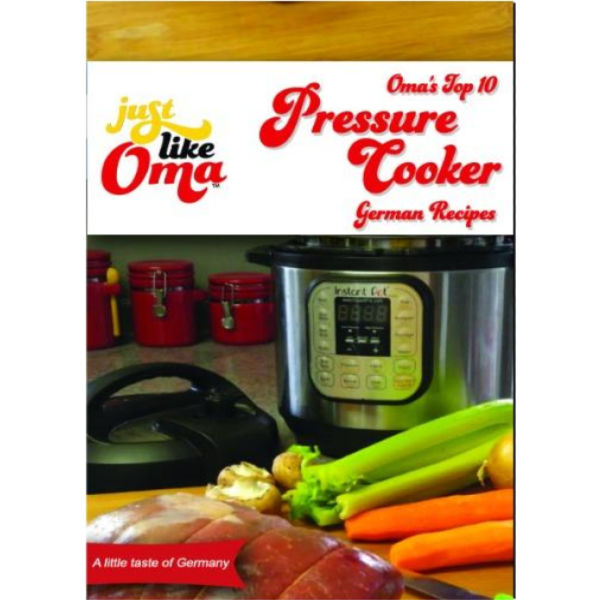 While pressure cookers are very popular in Germany, the last time I used one was 35 years ago, you know, the type that makes a mess on the ceiling!
My Facebook fans let me know that the modern ones are very safe and so much easier to use than the old ones. Which brand to buy? My fans overwhelmingly recommended this one: the Instant Pot Duo (6 quart).
Here are my Top 10 favorite Pressure Cooker recipes that I've made in my Instant Pot Pressure Cooker, my new favorite toy!
Here's what you'll make with my help: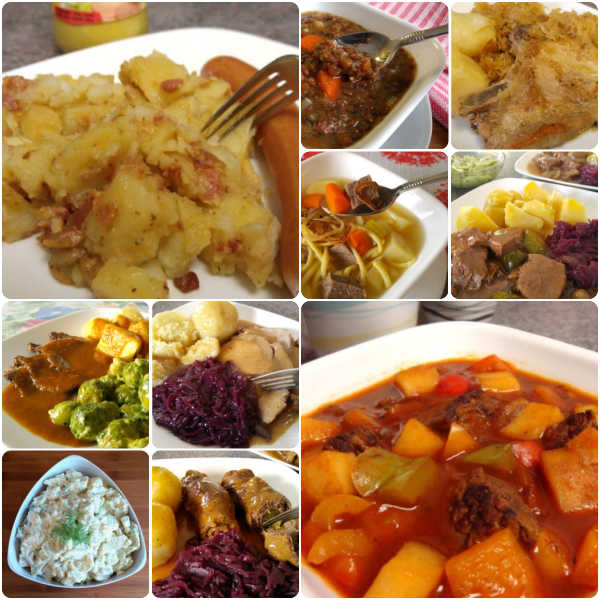 Flatladen (tastes just like Rouladen, easier and cheaper!)
Goulash Soup
Rouladen
Sauerbraten
Red Cabbage
Sauerkraut & Chops Dinner
Gaisburger Marsch
Lentil Soup
Northern German Potato Salad
Southern German Potato Salad
This is German food … made quick and easy … and extra delicious! 
There aren't any fancy methods or difficult procedures. Just follow the steps, one at a time, and you'll soon be serving German food that bring "oohs" and "aahs".

Since this eCookbook is immediately downloadable, you'll be able to start cooking right away! 
> THIS IS A PDF DIGITAL DOWNLOADABLE E-COOKBOOK. No physical book will be shipped or mailed. Price is in USD.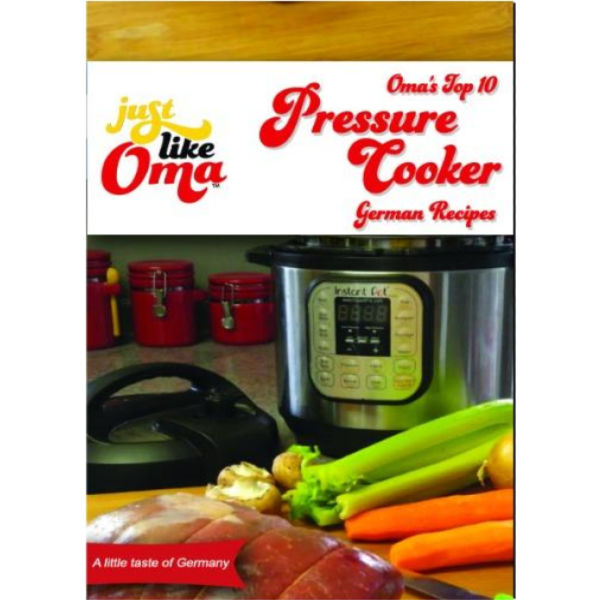 Top 10 Pressure Cooker Recipes eCookbook
$10.00

---
Many German recipes use ingredients only available in Germany. Since I don't live in Germany, having access to these isn't always easy. So, I experimented with my Mutti's recipes (many came from her hand-written notes) and made them with ingredients easily purchased at my local Canadian grocery store.

CRAVING MORE GERMAN FOOD?
These e-cookbooks, written in English, are the result. Since they are instantly downloadable PDFs, the moment you order them, you'll be cooking and baking just like Oma in no time at all! (Prices below are in USD.)
Oma's eCookbooks
Choose from my e-cookbooks that are immediately downloadable PDFs & start cooking and baking easy German foods right away. (Prices are in USD.) 
What a yummy way to pass on our German culture: eat like a German!
You'll find oodles of recipes in my eCookbooks that will trigger memories of meals at Oma's ... both from the northern part of Germany and the southern part.
All downloadable digital items are for personal, non-commercial use only. They may not be transferred, shared, forwarded, resold, distributed or posted by electronic means or as free downloads.
All images and content are copyrighted by Just like Oma and Gerhild Fulson. 
Looking for PAPERBACK COOKBOOKS?

Oma's newest cookbook (in English), Baking Just like Oma, is now available. Filled with recipes for breads, rolls, cakes, and Christmas treats, you'll be amazed how easy it is to make those wonderful German mouthwatering treats. Grab this paperback today! 
More info: Baking Just Like Oma
More info: German Meals at Oma's
Grab this cookbook as well, German Meals at Oma's, (in English). Filled with recipes from every German state, it will take you on a tour throughout Germany. Eat your way around the country and try some traditional foods that are easy to make. It's also available as a Kindle version.