Baking Just Like Oma - Paperback Cookbook
As an Amazon Associate, I earn from qualifying purchases.
Are you living outside of Germany, too? Are you missing that daily trip to the bakery to get your fresh Brötchen or Streuselkuchen?
You can re-create those fabulous baked goods, no matter where you live in the world. 
When my Mutti and Papa immigrated to Canada in the 1950s with their young family, they worked hard to start a new life. It meant Mutti needed to experiment in the kitchen using ingredients that were foreign to her to try and capture the flavors that reminded her of the old country.
Her creativity and inventiveness won out. With a delectable Buttercreme torte or a simple Obsttorte for afternoon break, the food was so reminiscent of her traditional upbringing in Germany.
Using local ingredients can be a bit of a challenge, but German baking is actually not that difficult to replicate, especially when you have an Oma at your side.
Let me be your Oma. I'll teach you, just like Mutti taught me.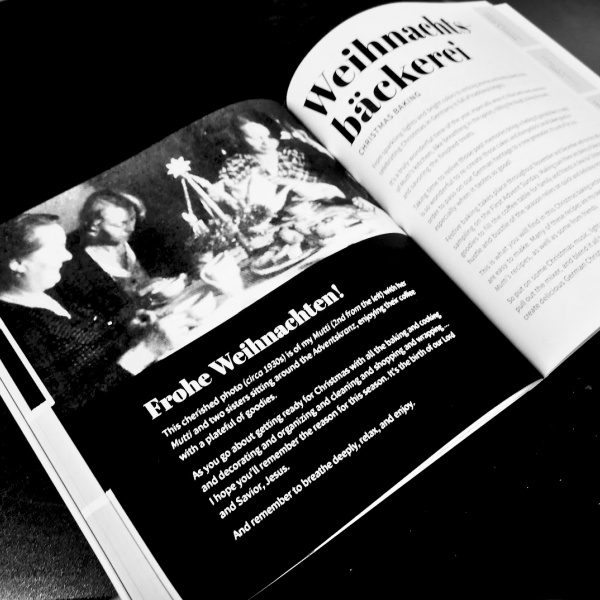 There's a special section filled with Christmas baking, just like I learned from my Mutti (2nd from the left in the photo).
The recipes that form the core for most of the cooking and baking I do are quick, easy, and delicious. They are the ones I've always relied on, especially at times when my life was very busy: when our boys were young, when I was homeschooling, and when I was running a private school.
During those times, having something quick and delicious on the table, such as Apfelstrudel and no-knead Sauerteig Vollkornbrot, was really important to me.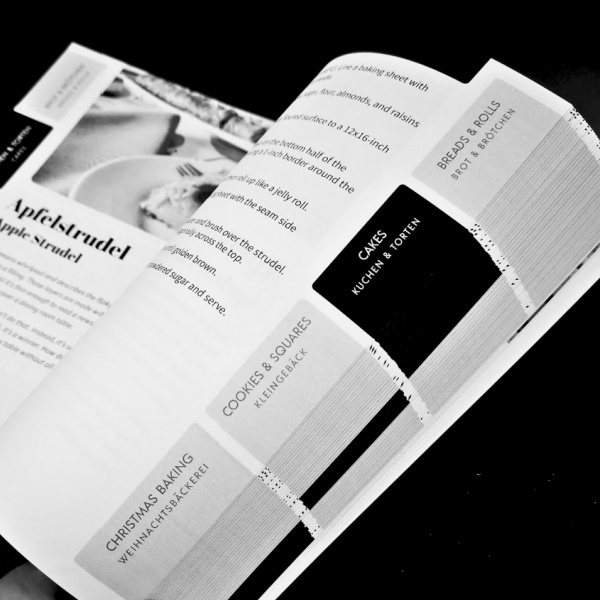 Use the tabs to quickly turn to the section you want. Here's the Apple Strudel recipe page. YUM!
Other recipes are more recent, such as Krustenbrot and Friesentorte; they are also quick, easy, and delicious and have likewise become staples.
This cookbook, Baking Just Like Oma, is a collection of these tried-and-true baking recipes. You'll find many of the recipes include a section called Oma's Ecke (Grandma's Corner) with extra info for each of those recipes.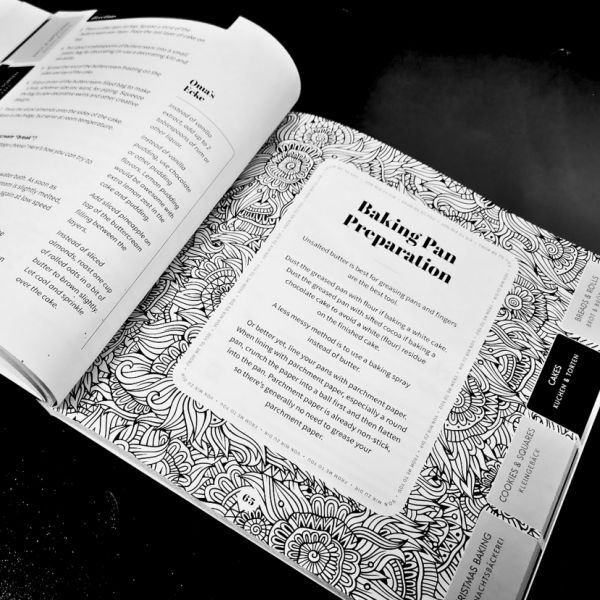 "Oma's Ecke" brings you extra help and ideas to use for that recipe. The "Tips & Hints" pages (created as coloring pages) contain wisdom gleaned from Oma's 65+ years of baking.
You'll also find some unusual coloring pages scattered throughout the book that contain special baking tips and hints to help you as we travel through this German baking adventure together.
And to make it easier for everyone, I've adjusted these recipes to also include standard US measurements instead of weighing the ingredients, which is the norm in Germany. Yes, weighing is more accurate, especially in baking; however, I think you'll find the recipes included here work just as well when made with cups and measuring spoons.
Can't get German baking ingredients? Don't worry. I show substitutes for them.
So, what do you say? Let's get baking and create these mouth-watering treats as delectable treasures to pass on to your family, just like my Mutti did for hers.
Each of these wunderbar recipes has a black/white photo and is filled with tips and tricks, right from my kitchen.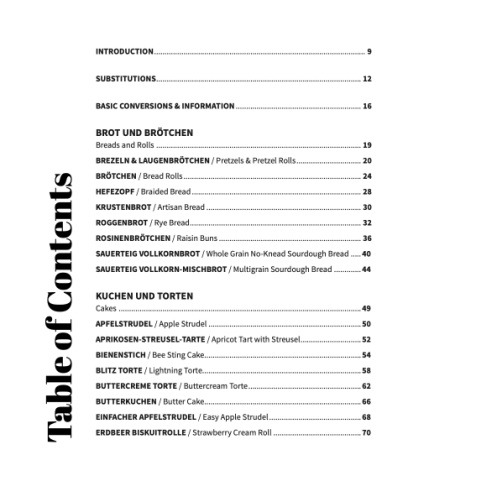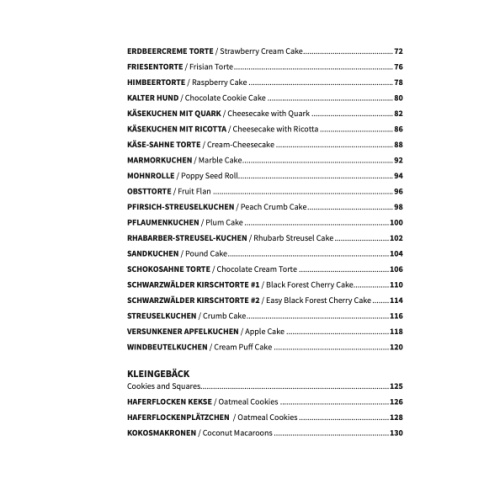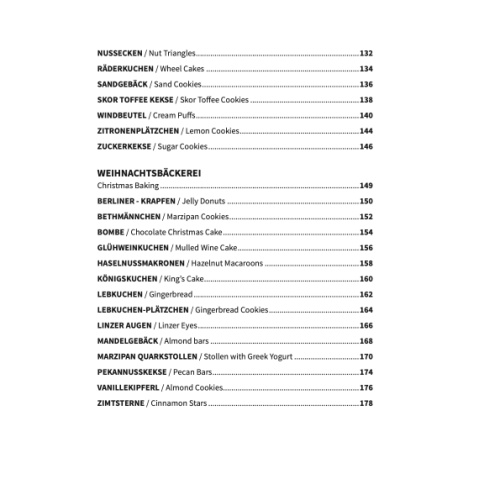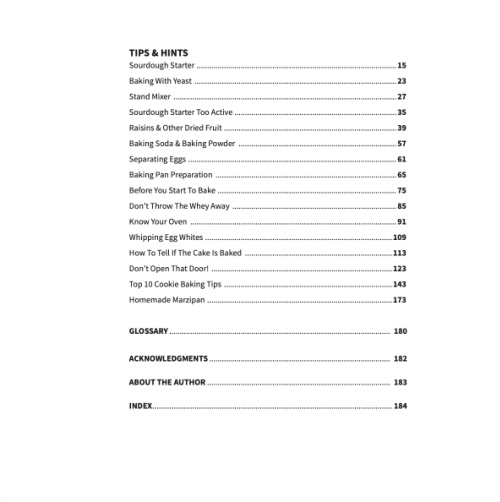 Here's your chance to get Baking Just Like Oma for yourself and for everyone on your gift-giving list! Pass on your German culture to your children and grandchildren. Share your love for German baking with your friends and neighbors.

Get Oma's paperback Baking Just Like Oma today. 
I've re-created those traditional German baked treats that you recall your Oma making by using easily available ingredients.
Quick and easy. That's my motto. Wunderbar food. That's the result.
---
Many German recipes use ingredients only available in Germany. Since I don't live in Germany, having access to these isn't always easy. So, I experimented with my Mutti's recipes (many came from her hand-written notes) and made them with ingredients easily purchased at my local Canadian grocery store.

CRAVING MORE GERMAN FOOD?
These e-cookbooks, written in English, are the result. Since they are instantly downloadable PDFs, the moment you order them, you'll be cooking and baking just like Oma in no time at all! (Prices below are in USD.)
Oma's eCookbooks
Choose from my e-cookbooks that are immediately downloadable PDFs & start cooking and baking easy German foods right away. (Prices are in USD.) 
What a yummy way to pass on our German culture: eat like a German!
You'll find oodles of recipes in my eCookbooks that will trigger memories of meals at Oma's ... both from the northern part of Germany and the southern part.
All downloadable digital items are for personal, non-commercial use only. They may not be transferred, shared, forwarded, resold, distributed or posted by electronic means or as free downloads.
All images and content are copyrighted by Just like Oma and Gerhild Fulson. 
Looking for PAPERBACK COOKBOOKS?

Oma's newest cookbook (in English), Baking Just like Oma, is now available. Filled with recipes for breads, rolls, cakes, and Christmas treats, you'll be amazed how easy it is to make those wonderful German mouthwatering treats. Grab this paperback today! 
More info: Baking Just Like Oma
More info: German Meals at Oma's
Grab this cookbook as well, German Meals at Oma's, (in English). Filled with recipes from every German state, it will take you on a tour throughout Germany. Eat your way around the country and try some traditional foods that are easy to make. It's also available as a Kindle version.