Political Map of Germany ~ Deutschland
➤ by Oma Gerhild Fulson
This map of Germany shows the political states of modern-day Germany.
Just Like Oma's Kaffeeklatsch, the free monthly Quick German Recipe newsletter, has traveled to each state to discover the traditional foods, fun facts, history, and cultural differences.
---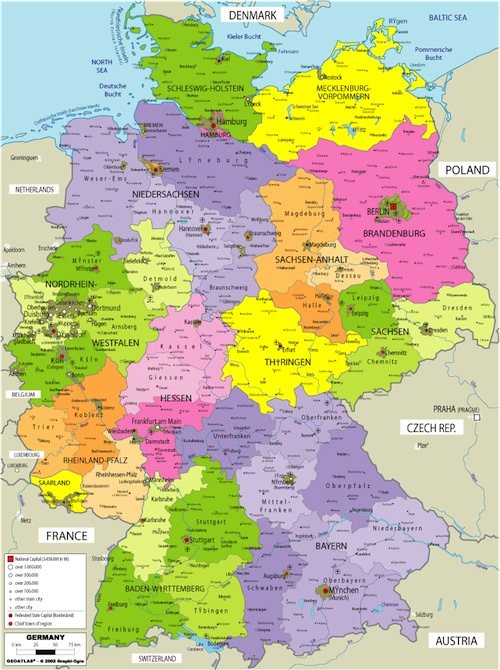 Subscribe to Just like Oma's and join us as we travel and learn about this wunderbare Germany.
Need that "all's good with the world" feeling? Comfort food will do that. Grab my German Comfort Foods e-Cookbook written in English just for you.
Sharing traditional German foods, made using easily available ingredients, ... that's such a delicious way to feel a 'hug' anytime of the year.
Leave a comment about this recipe or ask a question?
Pop right over to my private Facebook group, the Kaffeeklatschers. You'll find thousands of German foodies, all eager to help and to talk about all things German, especially these yummy foods. 
I pop in all the time as well, to chat and to answer questions. 
Meet with us around Oma's table, pull up a chair, grab a coffee and a piece of Apfelstrudel, and enjoy the visit.
Dumplings and noodles, both sweet and savory, are such a German traditional food. Follow along step-by-step and you'll soon be enjoying German food made just like Oma.

I was searching for this recipe on Pinterest and found this one on YouTube as a tutorial. Am very pleased how they turned out, would have made my mother-in-law

How to make cashew cream is really quite simple. At its most basic, it is a combination of cashews, water, and salt. Cashew cream is one of the many delicious dairy-free recipes made with cashews.
*  *  *  *  *
Words to the Wise
"To one who listens, valid criticism is like a gold earring or other gold jewelry."
Proverbs 25:12 (NLT)
Maps of Germany - Visit us for large and small German Maps.
Top of Political Map of Germany