New York Cheesecake
by Michelle
(Luhansk)
My dad loves cheesecake, so I'm adamant to put in a recipe that pays homage to his sweet tooth. New York has a love affair with two types of cheesecake, either Jewish or Italian. I've combined the two to produce a cheesecake with a Jewish-style texture and an Italian ingredient — mascarpone cheese. If using a springform cake pan, be sure to line the crust all the way to the top.

Almost New York Cheesecake
Makes one 22-cm (9-in) round cake
Ingredients:



Cream cheese 750 g (1 lb 10 ½ oz)

Sugar 200 g (7 oz)

Eggs 3

Mascarpone cheese 225 g (8 oz)

Lemon zest from 1 lemon

Vanilla extract 1 tsp

Crust


Sweet Biscuits 200 g (7 oz)

Almonds 2 Tbsp

Butter 6 Tbsp, melted

Caramel Shards


Caster sugar 225 g (8 oz)

Water 2 Tbsp

Instructions:


Place a small tray of water on the lowest rack in the oven. Preheat oven to 230˚C (450˚F).

Prepare crust. Blend biscuits and almonds in a food processor until they are crushed and resemble a sandy texture. Alternatively, pound with a mallet. Add half the butter and mix until you get a wet sandy consistency. Add remaining butter and mix until it comes together when you squeeze it between your hands. Press the crumbs firmly onto the bottom of a greased cake pan, or all around the springform pan. Refrigerate until needed.

Prepare filling. In a bowl, beat cream cheese and sugar until smooth and well combined. Add the eggs one at a time, beating to mix well after each addition. Add mascarpone cheese, lemon zest and vanilla extract. Scrap the sides of the bowl and continue to mix until just combined and smooth.

Pour filling into prepared crust and smooth the top with the back of a spatula.

Place cheesecake on the rack above the water bath and bake for 15 minutes.

Reduce the temperature to 150˚C (300˚F) and continue to bake for another 30 minutes, until the cheesecake jiggles when moved.
Leave to cool at room temperature before refrigerating.

While waiting for cheesecake to chill, simmer ingredients for caramel shards over low heat until it turns a nice amber-gold colour. Drizzle hot liquid caramel onto a lined baking tray. Leave to cool until it hardens into crunchy caramel shards.
Break caramel shards into pieces and use them to garnish cheesecake before serving.

Note:
Depending on the weather, the caramel shards may melt if left at room temperature, so prepare them only when ready to serve.
*******
The photo above is from Michelle's posting in Sweet Living Magazine. She also has a book called My Little Soho Kitchen. Here's an excerpt from the book:
"Michelle Tchea's new book My Little Soho Kitchen (Marshall Cavendish Publishers) includes 60 international recipes inspired by Asian and Western cuisine. And what a treat!
Featuring a wide range of meals, desserts and snacks that are both easy to prepare and terrifically tantalizing, Michelle has developed a collection of go-to recipes for every occasion. Prepare a simple meal of Savory Seafood Rice on a busy day, enjoy afternoon tea with friends over Chocolate Cake with Toasted Marshmallows, create a bit of Paris at home with Apple Frangipane Tart, and indulge in Mango and Lime Daiquiri at a party. The fuss-free preparation of all these recipes means they're suitable for any size kitchen and skill.
Loaded with plenty of tips and ideas for whipping up quick and easy yet impressive meals, we can't wait to try out ALL these recipes! A truly delightful book."
Extracted with permission from My Little Soho Kitchen (Marshall Cavendish Publishers). Available from all good bookstores, and online at Whitcoulls, Penguin, and Book Feast.
Visit and keep in touch with Michelle on fb/SoHoLite
Leave a comment about this recipe or ask a question?
Pop right over to my private Facebook group, the Kaffeeklatschers. You'll find thousands of German foodies, all eager to help and to talk about all things German, especially these yummy foods. 
I pop in all the time as well, to chat and to answer questions. 
Meet with us around Oma's table, pull up a chair, grab a coffee and a piece of Apfelstrudel, and enjoy the visit.
Thinking of starting your own Handmade Business?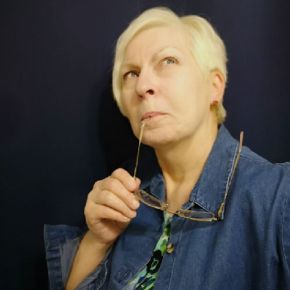 This Oma KNOWS you CAN do it.
How do I know?
Well, if I can do it, anyone can.
I've even figured out how I can help you.
I've teamed up with my own business coach, Renae Christine (yes, do google her!), to bring you this free workshop. After you watch it, ask me any questions and I'll gladly answer them.
Don't hesitate. I'm not sure how long Renae will keep this free workshop available.
PS:  Yes, Renae really is as amazing as all the reviews say.
PPS: Yes, the course is for handmade items, but I've used it successfully for my cookbooks. I know others are using her methods for services, direct sales, and even a local ice cream bar & grill that's constantly selling out. You've nothing to lose by taking a look ... and a whole bunch to gain.