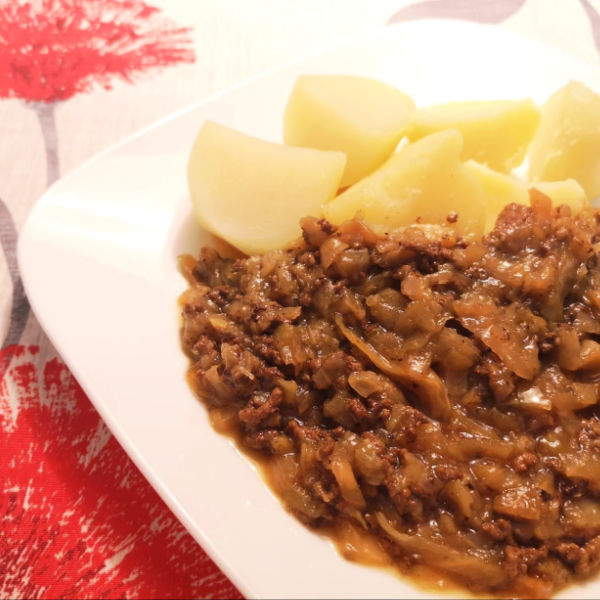 Oma's One-Pot Unstuffed Cabbage Roll Casserole

Love German cabbage rolls? You'll absolutely love Oma's one-pot unstuffed cabbage roll casserole. Same great taste, but a LOT less work. No rice or tomatoes here. Just real German goodness. REAL GERMAN FOOD!

Prep Time


10 minutes


Cook Time


30 minutes


Total Time

40 minutes

Servings:

Makes 4 servings
Ingredients:
2 tablespoons oil
2 pounds lean ground beef
1 large onion, chopped
1 small green cabbage, shredded
2 - 3 cups beef broth, divided
2 teaspoons salt
1 teaspoon freshly ground black pepper
about 4 tablespoons Veloutine or 2 tablespoons cornstarch
Instructions:
Heat oil in a large saucepan over medium-high heat. Add ground beef and cook until no pink is visible.
Add onions and continue frying until onions are slightly browned and translucent.
Remove beef and onions to a bowl. Add part of the cabbage to the saucepan and fry for a few minutes to soften and brown. Add a bit more oil if needed. Add remainder of the cabbage, stir and continue frying for a few minutes.
Return beef and onions to the cabbage. Stir in 2 cups of broth, salt and pepper.  Cover and simmer for about 15 minutes and up to 1 hour.
Depending how much sauce you'd like, either add another cup of broth or water. Add Veloutine to thicken sauce. (Or mix cornstarch with a bit of cold water and stir in enough to thicken.)
Season with salt and pepper and serve.
Notes/Hints:

Add whichever spices you like, such as caraway.
Adding a tablespoon or so of vinegar is a nice touch. It reminds me of this braised cabbage I grew up with.
Serve this with boiled potatoes on the side.
*  *  *  *  *

Unless otherwise noted recipe, images and content © Just like Oma | www.quick-german-recipes.com