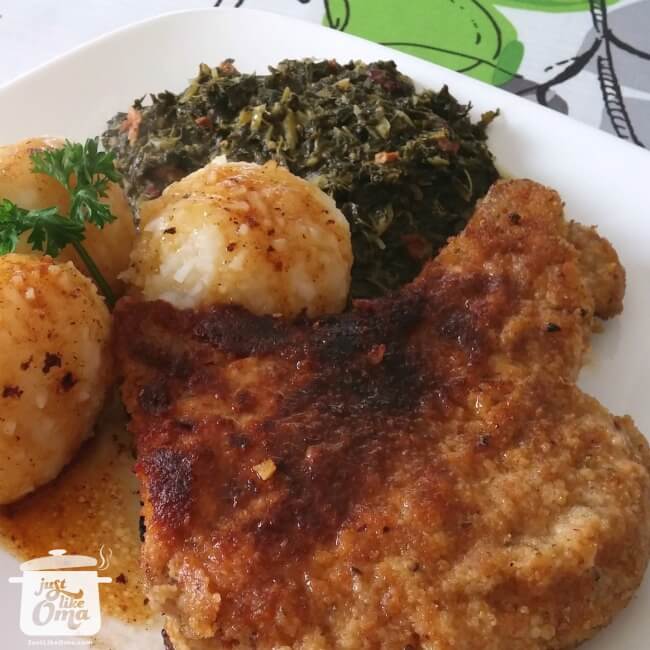 Oma's Thüringer Klösse

Thüringer Klösse are THE authentic potato dumpling made from grated raw potatoes. Traditionally served with rouladen and its gravy.
In Thuringia, a state in the center of Germany, it is said that, "a Sunday without dumplings is no Sunday at all." 

Prep Time


30 minutes


Cook Time


17 minutes


Total Time

47 minutes

Servings:

Makes 4 servings
Ingredients:
2¼ pounds (1 kilogram) potatoes, Yukon Gold
1 cup (240 milliliters) milk
4 tablespoons (56 grams) butter, divided
3½ teaspoons (21 grams) salt, divided
4 tablespoons (45 grams) Cream of Wheat (plain farina or semolina)
2 slices white bread (day old)
4 tablespoons (40 grams) potato flour (starch), as needed
Instructions:
Make croutons by cutting bread into cubes and browning in 2 tbsp butter.
Bring a large pot of water with 3 teaspoons salt to a boil. Cover and keep at a low simmer.
Bring milk to boil in a small pot. Add ½ teaspoon salt, 2 tablespoons butter and Cream of Wheat. Simmer and stir until mixture forms a ball and leaves sides of pan. Remove from heat and cover to keep warm.
Peel and grate potatoes into a large bowl of cold water. Put grated potatoes into cheesecloth or clean dishtowel and squeeze out as much liquid as possible, catching the liquid in a bowl.
Dump the potatoes into another large bowl, loosening the mass with a fork. Carefully pour off the strained water from the other bowl, keeping the settled potato starch in the bowl. Scrape that starch into the bowl with the potatoes. Add the hot Cream of Wheat and mix well. Use your hands to finish mixing, adding extra potato flour if needed.
Shape into fist-sized dumplings (moisten hands to keep the dough from sticking), pressing 1 or 2 croutons into center of each dumpling.
Gently drop into simmering water and simmer, uncovered, for about 15 to 20 minutes. They should be floating on top indicating that they are done.
Remove with a slotted spoon and serve, especially with meat and gravy!
Notes/Hints:

Test cook one dumpling to make sure it stays together, before you cook the rest. If it doesn't stay together, add a bit of potato starch.
These taste best with gravy, such as from rouladen or sauerbraten.
*  *  *  *  *

Unless otherwise noted recipe, images and content © Just like Oma | www.quick-german-recipes.com

03.29.2021 revision update