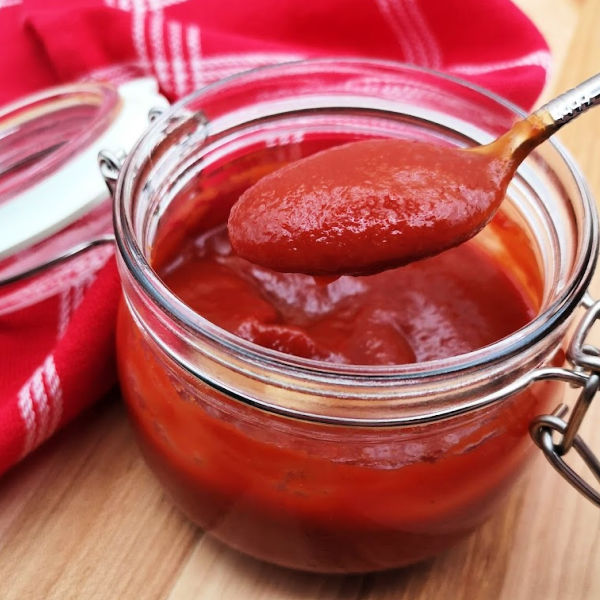 Easy German Currywurst Recipewith Oma's Homemade Tomato Ketchup

This authentic currywurst recipe is so quick and easy to make. And so yummy! The delicious sauce made with homemade ketchup is a bit spicy, with a touch of sweetness and an interesting mix of spices, including curry, of course. It makes plain fried bratwurst something to shout about.
Prep Time


5 minutes


Cook Time


20 minutes


Total Time

25 minutes

Servings:

Makes 4 servings
HOMEMADE KETCHUP RECIPE:

Ingredients:
6 oz can tomato paste
¼ cup honey
½ cup white wine vinegar
½ teaspoon salt
¼ teaspoon onion powder
3 tablespoons water
Instructions:
Mix everything together in a small saucepan.
Bring to a simmer over medium heat, stirring constantly.
Simmer for about 5 minutes or until it is as thick as you like. Let it cool.
Either store in the fridge in a covered container or continue with the curry sauce.
CURRYWURST RECIPE: 

Ingredients:
1 cup of tomato ketchup (from above or purchased)
4 - 5 teaspoons mild curry powder
½ - 1 teaspoon chili powder
½ teaspoon onion powder
pinch ground cloves
2 teaspoons sweet or smoked paprika powder
2 teaspoons honey
2 teaspoons Worcestershire sauce
1 teaspoon water
cooked German bratwurst 
Instructions:
Put ketchup in a bowl. Add the rest of the ingredients (except bratwurst) and mix well.
Cover and let sit in the fridge for at least 12 hours to allow the flavors to meld.
Cut the sausage into thick slices. Pour the curry ketchup sauce on top and sprinkle with additional curry powder.
Serve with Brötchen (crispy bread roll) or Pommes Frites (French fries).
Notes/Hints:

Homemade curry ketchup should be made at least one day ahead to allow flavors to meld.
If your sauce is too thick, thin it with a bit of water.
Adjust the chili powder according to the amount of spiciness you prefer. You can omit it totally if you're wanting a really mild curry sauce.
For more heat, try adding some cayenne pepper or hot paprika to the curry sauce, or have fun experimenting with different spices.
Use the best German sausage available, such as Bavarian Bratwurst, Weisswurst, Knackwurst, or Bockwurst.
Whichever cooking method you use, you wanna make sure the skins get very crispy.
Vegan Currywurst: simply substitute maple syrup or brown sugar for the honey, use a vegan Worcestershire sauce, and fry up some vegan brats for a vegan version of this popular German street food.
*  *  *  *  *

Unless otherwise noted recipe, images and content © Just like Oma | www.quick-german-recipes.com

04.13.2022