Insert Reuseable block ... Recipe - (recipe url), remove this block and save page. Test all links.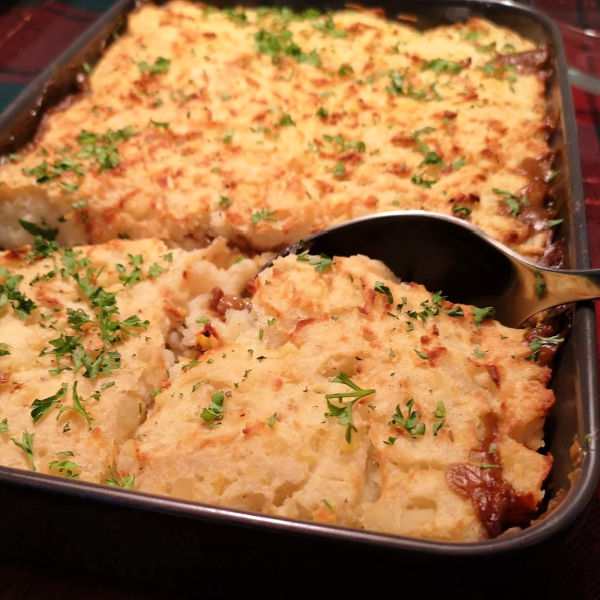 Vegan Shepherds Pie Recipe – Hackfleischauflauf mit Kartoffelhaube

Shepherd's Pie may not be German food, but it is oh-so-good and very much pleases my German taste buds! This vegan version of what we would call Hackfleischauflauf mit Kartoffelhaube in Germany is so easy to make and so delicious. It got rave reviews from everyone, including hubby.
Prep Time


50 minutes


Cook Time


20 minutes


Total Time

70 minutes

Servings:

Makes 6 servings
Ingredients:
For the mashed potatoes:
3lbs Yukon gold potatoes
reserved potato water
¼ to ½ cup cashew cream, to taste (see NOTES/HINTS)
salt and black pepper, to taste
For the lentil filling:
12 ounces cremini mushrooms
2 large carrots
1½ medium onions
4 tablespoons olive oil, divided
½ teaspoon salt
3 tablespoons all-purpose flour
½ teaspoon whole fennel seeds
1 teaspoon smoked paprika
1 teaspoon garlic powder
1 teaspoon dried sage
2 cups vegetable broth or vegetable stock
1 cup frozen peas (can use frozen or thawed)
2 tablespoons finely chopped fresh parsley
1 14-ounce can lentils, drained
1 tablespoon soy sauce (or tamari) 
salt and freshly ground black pepper, to taste
chopped fresh parsley, for garnish
Instructions:
Preheat oven to 375°F.
Peel and chop potatoes. Place in a large pot and add enough cold water to cover potatoes by one inch. Salt and bring to a boil.
Cook potatoes for 10 to 15 minutes, until fork tender.
While potatoes are cooking, dice mushrooms and carrots into bite-sized pieces and slice onions.
In a large saucepan, heat 2 tablespoons of the oil over medium-high heat. Add mushrooms and cook for about 5 minutes until golden brown.
Reduce to medium heat and add remaining olive oil along with carrots, onion slices, and salt. Cook until onions are tender.
Reduce heat to medium-low. Stir in flour, fennel seeds, smoked paprika, garlic powder, and dried sage. Cook for one minute.
Add veggie broth and stir, scraping up any browned bits from the bottom of the pan. Cook for two minutes until thickened.
Stir in peas, parsley, lentils, and soy sauce. Bring to a simmer and heat through. Season with salt and pepper to taste.
When potatoes are done cooking, drain, reserving cooking liquid, and return them to the pot.
Add a little bit of the reserved potato water and ¼ cup of the cashew cream to the potatoes and mash with a potato masher, being careful to add only a little bit of the potato water at a time (and extra cashew cream, if desired) until desired consistency is achieved. Season with salt and pepper.
Pour the lentil filling into an 8x11-inch baking dish. Spread the mashed potatoes evenly over the top. Bake for 20 to 25 minutes, then let it sit under the broiler for 2 to 3 minutes until the potatoes are nice and golden.
Garnish with parsley and serve.
Notes/Hints:

If you don't have cashew cream available, you can use olive oil or vegan butter instead. Start with a small amount, about 2 tablespoons, and work your way up, to taste. You can also add come nutritional yeast for a cheesy flavor.
You can use 1¾ cups cooked brown or green lentils instead of canned lentils.
Give it a German touch by using Maggi (Maggi Würze) instead of soy sauce. You can also substitute vegan Worcestershire sauce for the soy sauce.
You can make this lentil Shepherd's Pie in an air fryer oven. Same instructions, but instead of under the broiler, put it on Air Fry mode at 425°F for 2 to 3 minutes, until browned.
Try adding 2 to 4 tablespoons of tomato paste to the lentil filling.
If you like sweet and savory combinations, you can always replace the mashed potatoes with sweet potato mash: bake 3 pounds whole sweet potatoes in 450°F for 40 to 60 mintues depending on size. When fork tender, remove from oven and slice sweet potatoes in half lengthwise to cool. When cool enough to handle, scoop out flesh and mash until creamy. Season with salt and pepper and a little olive oil or vegan butter, if desired.
*  *  *  *  *

Unless otherwise noted recipe, images and content © Just like Oma | www.quick-german-recipes.com

04.04.2022 revision update