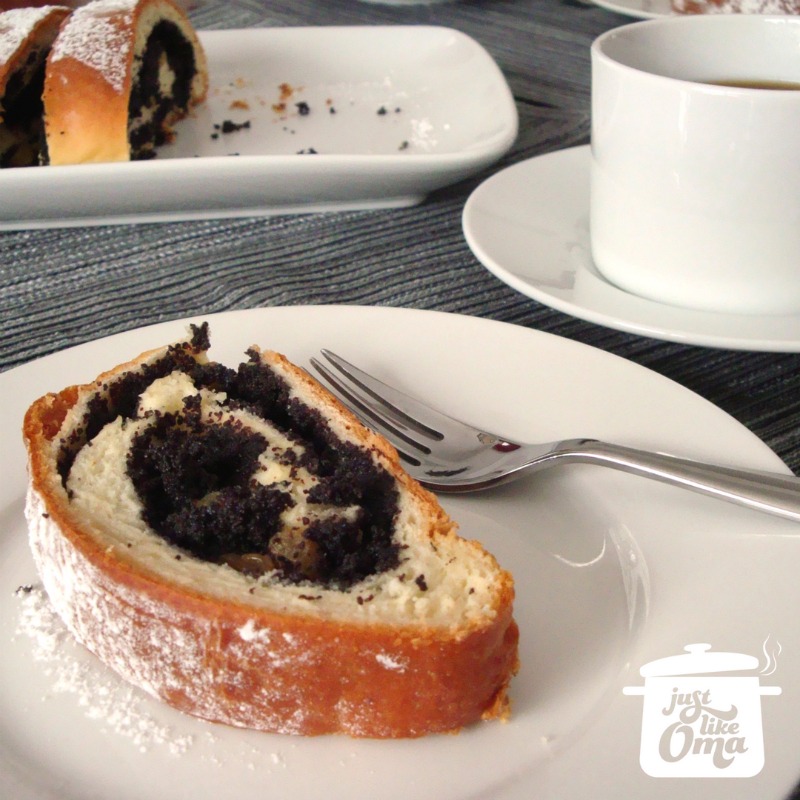 German Poppy Seed Roll – Oma's Mohnrolle

My poppy seed roll, aka Mohnrolle, is so easy to make. Use your bread machine to whip up the dough. Then, prepare the filling (or use canned), roll it all together, and bake! Let cool slightly and eat fresh! WUNDERBAR! Yes, that easy! 

Prep Time


120 minutes


Bake Time


30 minutes


Total Time

3 hours

Servings:

Makes 16 servings
Ingredients:
Yeast Dough:
¼ cup granulated sugar
2¼ cups flour, all-purpose
1 teaspoon salt
⅞ cup milk, lukewarm
1 egg yolk
1 tablespoon soft butter
2 teaspoons active dry yeast
Poppyseed Filling: (or use prepared canned filling)
2 cups ground poppy seeds
½ cup granulated sugar
2 tablespoons soft butter
1 tablespoon lemon juice
1 tablespoon lemon zest
1 tablespoon flour
1 cup milk
½ cup raisins (optional)
rum to soak raisins (optional)
2 tablespoons butter, melted, to brush on rolls
Instructions:
Put all the yeast dough ingredients in the Bread Machine pan.
Use the "dough" setting and start. This usually takes about 1½ hours.
In the meantime, if you are using raisins, put them into a small bowl and sprinkle with rum. 
Prepare your cookie sheet by greasing it with butter.
Make the poppy seed filling by mixing together the poppy seeds, sugar, butter, lemon juice, lemon zest, and flour in a small saucepan. Add milk and stir. Bring to simmer and simmer for about ½ hour until thickened, stirring occasionally. Let cool before using. 
When the dough cycle is finished, remove the dough. Put a bit of flour on the counter and knead the dough slightly. Divide the dough in half. Roll out one half until it makes a rectangle about 10x10-inch. Do this by patting the dough, pulling it, and then using a rolling pin. Keep lifting the dough from the counter to make sure it doesn't stick. Try to use as little extra flour as possible. 
Drain the raisins, and add them to the poppy seed filling.
Spread half the poppyseed filling over the surface of the dough, keeping about 1-inch from the edges.
Roll up, jelly-roll style. Place on cookie sheet. Repeat with other half of the dough.
Cover rolls and let rise in a warm, draft-free place for about 30 minutes.
Preheat oven to 350°F.
Gently brush rolls with melted butter. Bake for about 30 - 35 minutes or until golden brown.
Let cool on cookie sheet. Brush with additional melted butter and sprinkle with powdered sugar, if desired.
Serve slightly warm.
Hints:
If you want to make the yeast dough by hand instead of using a bread machine, you can follow the recipe here.
Instead of making the poppy seed filling from scratch, replace it with a can of prepared poppy seed filling. Find a brand that you like. There are several to choose from, some with raisins, some with nuts, some plain. 
*  *  *  *  *

Unless otherwise noted recipe, images and content © Just like Oma | www.quick-german-recipes.com

06.11.2021 revision update