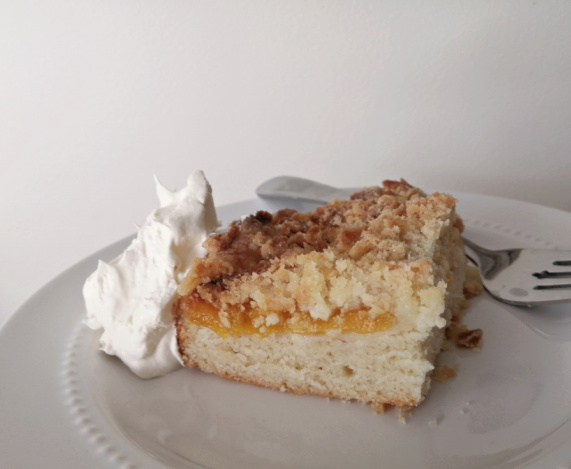 Air Fryer German Crumb Cake Recipe ~  Luftfritteuse Streuselkuchen

Use your air fryer to make this German crumb cake recipe. You'll find that it tastes just like the ones your Oma used to make, but it's quicker and easier to make.
This cake is so versatile, perfectly sized, and that lecker streusel topping will make you feel like you're back home in Germany as you savor every bite. I based this recipe on my Oma's plum cake.
I used the Instant Vortex Plus Air Fryer Oven to make this delicious cake. If you have something different, no problem. Simply adjust settings and cook time accordingly. 
Prep Time


15 minutes


Cook Time


40 minutes


Total Time

55 minutes

Servings:

Makes 9 slices
Ingredients:
Cake Ingredients:
1 cup & 2 tablespoons all-purpose flour
1½ teaspoons baking powder
2 tablespoons granulated sugar
½ teaspoon vanilla sugar
pinch salt
¼ cup Greek yogurt

2½ tablespoons milk
2½ tablespoons light olive oil
1 can peach slices, well drained or other filling (See hints)
Streusel Ingredients:
1 cup all-purpose flour
½ cup granulated sugar

½ cup cold butter

Instructions:
Preheat air fryer to 325°F on bake. Grease a 8x8-inch baking pan with a removable bottom and line with parchment paper.
Into a large mixing bowl, mix flour, baking powder, sugar, vanilla sugar, and salt. 
Add yogurt, milk, and oil and using dough hook, mix for a minute or so until dough holds together (do not over-beat!) ... if you wish, you can just use a wooden spoon to mix and then knead lightly with hands.
Press dough into pan and place peach slices in rows on top of the dough.
Mix together the flour, sugar, and cold butter to make streusel dough. Crumble over top of the peaches.
Bake at 325°F on middle shelf for 40 minutes or until top is lightly browned. 
Notes/Hints:

When choosing a filling for your cake, avoid pie fillings. They have too much liquid and don't hold together as nicely.
Alternate fillings can be cherries, plums, sliced apples, or jams. Poppy seed filling, either homemade or canned filling is super yummy!
If your pan doesn't have a bottom that comes off for easy access, make yourself a parchment paper sling. The sling will allow you to carefully lift it out of the pan!

Don't place your pan right on the bottom inside the air fryer to bake. Your heat source comes from the top, so having it too low would extend the bake time. Place one of your trays on the middle shelf and set your pan on the tray. This way, your cake is right in the middle and has enough heat circulating around to give a nice even bake.
*  *  *  *  *

Unless otherwise noted recipe, images and content © Just like Oma | www.quick-german-recipes.com