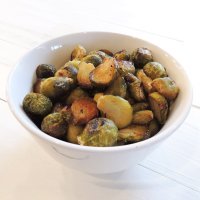 Vegan Roasted Brussels Sprouts with Balsamic Vinegar & Maple Syrup
These roasted Brussels spouts with balsamic vinegar and maple syrup are so quick and easy to prepare, yet so delicious! This may just be your new favorite go-to recipe for roasted frozen Brussels sprouts.
Prep Time


15 minutes


Cook Time


20 minutes


Total Time

35 minutes

Servings:

Makes 3 - 4 servings
Ingredients:
1 500g (around 1 lb) bag frozen Brussels sprouts
1 tbsp balsamic vinegar
1 tbsp pure maple syrup
salt & pepper
Instructions:
Preheat oven to 400 degrees F. Line a baking sheet with parchment paper.
Remove frozen Brussels sprouts from the freezer and let them sit for a few minutes to thaw slightly.
Meanwhile, add balsamic vinegar and maple syrup to a large bowl and stir to combine.
Using a sharp knife, cut Brussels sprouts in half and add to vinegar and syrup mixture. Stir until Brussels sprouts are evenly coated. (I like to use my hands.)
Spread the Brussels sprouts out on prepared baking sheet. Pour any remaining vinegar/syrup mixture over Brussels sprouts. Sprinkle with salt and pepper.
Roast in oven for 20 minutes or until Brussel sprouts are golden brown.
Notes/Hints:

This recipe works with fresh Brussels sprouts as well.
You can leave Brussels spouts whole, but you'll have to increase roasting time.
*  *  *  *  *

Unless otherwise noted recipe, images and content © Just like Oma | www.quick-german-recipes.com