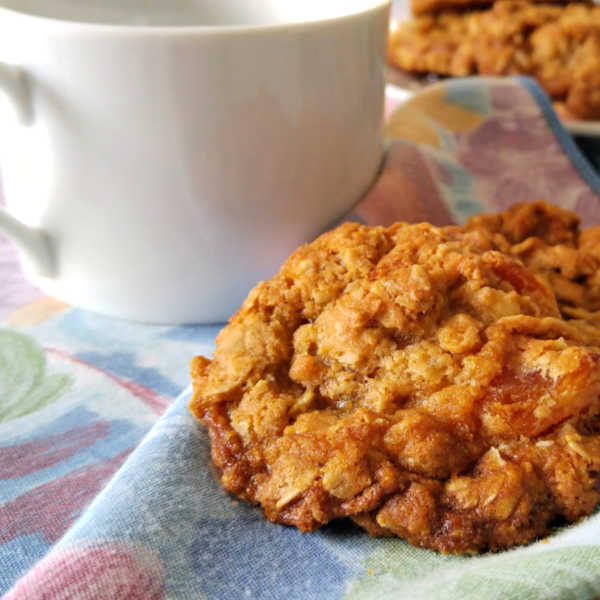 Best Oatmeal Cookie Recipe Made Just like Oma

Here's one of my best oatmeal cookie recipes, aka Haferflockenplätzchen, by far. This is an old-fashioned German oatmeal cookie recipe that is easy to make and it tastes so similar to the ones my Mutti used to make.
With the added apricots, they aren't just typical - they're extra-ordinary!
Prep Time


20 minutes


Bake Time


10 minutes


Total Time

30 minutes

Servings:

Makes 4 dozen
Ingredients:
1 cup all-purpose flour
1 teaspoon baking soda
1 cup butter
¾ cup brown sugar, packed
½ cup granulated sugar
1 large egg
1 teaspoon almond extract
2½ cups rolled oats, regular or quick-cooking
1 cup dried apricots, cut into pieces
½ cup chopped almonds
Instructions:
Preheat oven to 375°F.
Beat butter in large mixer bowl till softened.
Add brown sugar and sugar. Beat until fluffy.
Add egg and almond extract. Beat well.
Mix flour and baking soda together and add to mixer bowl. Beat till well mixed.
Stir in oats, apricots, and almonds.
Drop by rounded teaspoons onto un-greased cookie sheets.
Bake 8 - 10 minutes or till done. Cool on cookie sheet for 1 minute. Remove and cool on cookie racks.
Notes/Hints:

Use scissors to cut the apricots.
Drizzle with chocolate icing. Either heat chocolate chips in microwave. Drizzle from spoon over cookies.
Drizzle with almond icing. Into 2 cups of powdered sugar, stir in 1 teaspoon almond extract and up to about 1 - 2 tablespoons water to drizzling consistency. Drizzle from spoon over cookies.
*  *  *  *  *

Unless otherwise noted recipe, images and content © Just like Oma | www.quick-german-recipes.com