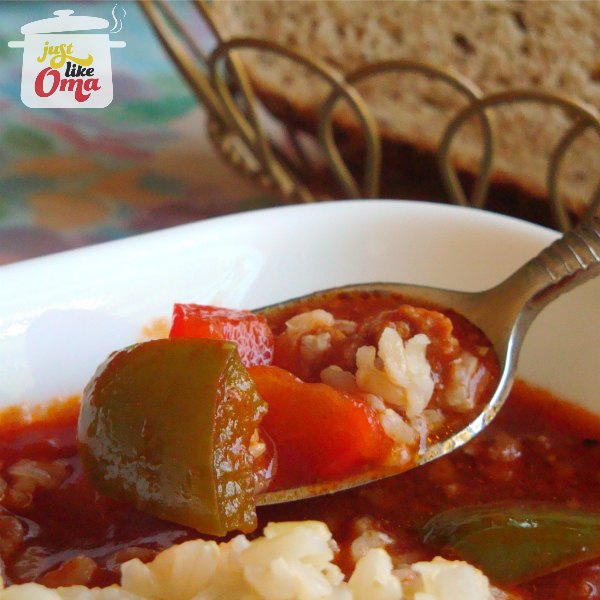 (Un)Stuffed Green Pepper Soup – gefüllte grüne Paprikaschoten Suppe

Do you love ground beef stuffed green peppers known in German as gefüllte grüne Paprikaschoten mit Hackfleisch? If you LOVE stuffed peppers, you'll LOVE this soup.  Lean ground beef, peppers (green, red, yellow, orange), tomatoes. Served with rice. All the taste, but minus the work.
Prep Time


15 minutes


Cook Time


60 minutes


Total Time

75 minutes

Servings:

Makes 8 servings
Ingredients:
1½ pounds lean ground beef
1 - 2 tablespoons olive oil
1 cup diced onion
1 clove garlic, crushed
1 cup chopped red and/or yellow pepper
2 cup chopped green pepper
28-ounce can crushed or ground tomatoes
28-ounce can diced tomatoes
6-ounce can tomato paste
1 teaspoon salt
2 - 3 cups beef broth (as needed)
salt and pepper as needed
3 cups hot cooked brown rice (to serve separately)
Instructions:
Brown ground beef in olive oil in a large pot or dutch oven. Drain fat, if any.
Add onions and continue cooking about 5 minutes. 
Add remaining ingredients. Stir well and bring to simmer. If needed, add more beef broth. Cover and let simmer about 30 to 45 minutes or until veggies are tender, stirring occasionally.
Season with extra salt and pepper if needed. 
Fill soup bowls ⅔ full, topping with about ½ cup cooked rice.
*  *  *  *  *

Unless otherwise noted recipe, images and content © Just like Oma | www.quick-german-recipes.com