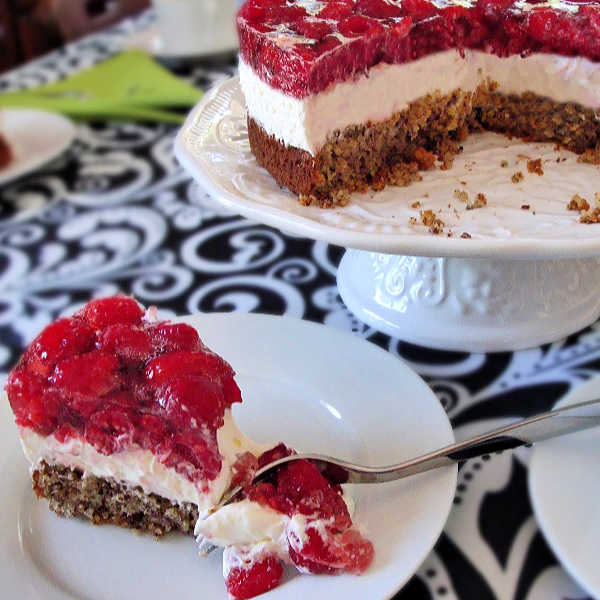 Heidi's Raspberry Torte Recipe

Heidi's Raspberry Torte, aka Himbeertorte, recipe is SO very easy ... and pretty ... and super delicious. Use a variety of berries to change it ... or just raspberries.
Prep Time


30 minutes


Bake Time


25 minutes


Total Time

55 minutes

Servings:

Makes 10 - 12 servings.
Ingredients:
¾ cup granulated sugar
4 large eggs
7 ounces ground nuts 
1⅔ cups whipping cream
2 packages whipping cream stabilizer (such as Whip It)
About 1½ pounds berries
1 cup juice
1 package red glaze mix
Instructions:
Preheat oven to 400°F.
Prepare a 10-inch springform pan by greasing and using parchment paper if desired.
Mix the sugar and eggs until they are frothy. Fold in the ground nuts. Spoon into the prepared springform pan.
Bake, about 20 to 25 minutes or until done.
Let the cake cool thoroughly. 
Remove the cake from the pan. Place the cake on your cake plate. Return the outside edge of the springform pan to the cake.
Beat the whipping cream and the stabilizer until stiff. Spread on top of the cake.
Spoon the berries over the top of the whipped cream.
Prepare the glaze with the juice and pour over the berries. 
Place in the fridge to chill.
To serve, use a knife to loosen the cake from the springform side and carefully lift the springform side off.
*  *  *  *  *

Unless otherwise noted recipe, images and content © Just like Oma | www.quick-german-recipes.com