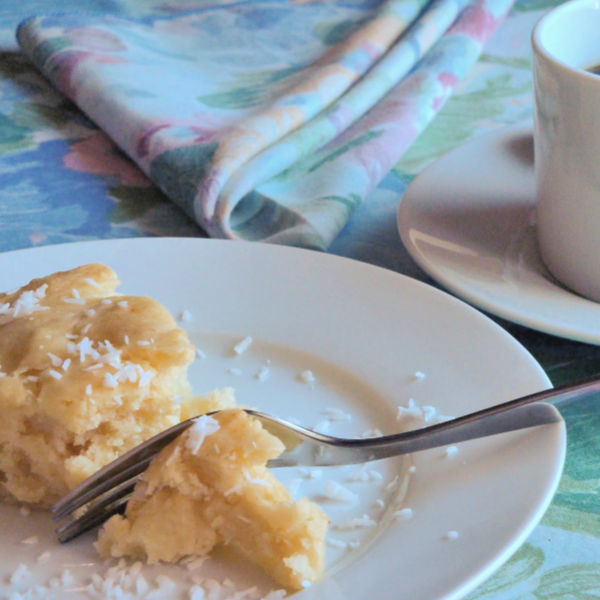 Oma's German Pineapple Cake

My pineapple cake recipe, aka Ananaskuchen, is one of those easy German recipes that is so quick to make. Basically it all goes into one bowl, stir, bake, and enjoy. 
With a sprinkle of coconut after it's baked, it's a southern twist that finishes it deliciously. Your Oma would be proud of you!
Prep Time


10 minutes


Bake Time


35 minutes


Total Time

45 minutes

Servings:

Makes 8 servings
Ingredients:
19-ounce can pineapple tidbits, drain and keep juice
1½ cups all-purpose flour
⅓ cup sugar
2 teaspoons baking powder
1 large egg
2 tablespoons butter, melted
2 tablespoons brown sugar
4 tablespoons milk
3 tablespoons pineapple juice (from can)
1 tablespoons rum
2 tablespoons coconut (to garnish)
Instructions:
Preheat oven to 350°F.
Grease or spray with non-stick cooking spray a 10-inch springform pan.
Drain pineapple, keeping liquid.
Mix together flour, sugar, and baking powder.
In a large mixing bowl, mix the egg, butter, brown sugar, milk, 3 tablespoons pineapple juice, and rum.
Stir in pineapple tidbits.
Stir in flour mixture until well mixed.
Pour into prepared springform pan.
Bake, about 30 to 35 minutes or until lightly browned.
Cool and sprinkle with coconut if desired.
*  *  *  *  *

Unless otherwise noted recipe, images and content © Just like Oma | www.quick-german-recipes.com