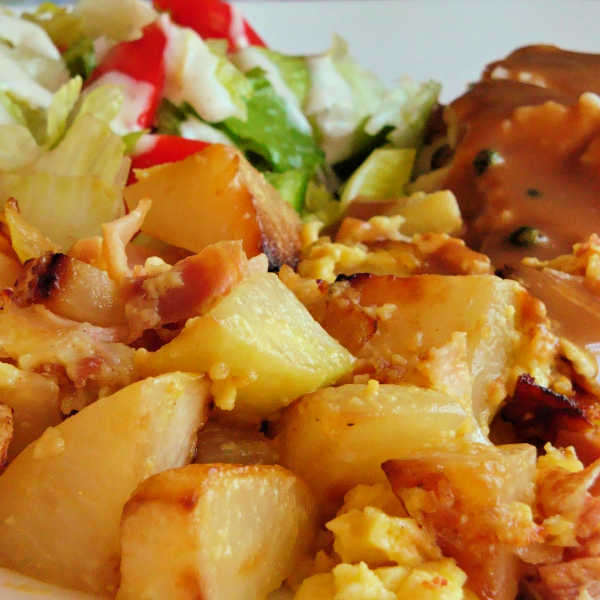 German Kohlrabi Casserole with Ham – Oma's Kohlrabi mit Schinken

This kohlrabi recipe, aka Kohlrabi mit Schinken, is a great way to use up leftover ham and create a delicious, traditional German meal.
For the meat in this recipe, use leftover ham or cooked sausage (kielbasa would be nice) - just dice it in the same size you dice the kohlrabi.
Prep Time


15 minutes


Cook/Bake Time


55 minutes


Total Time

70 minutes

Servings:

Makes 4 servings
Ingredients:
4 - 5 kohlrabi (about 3 pounds)
3 tablespoons olive oil (or butter)
½ pound cooked ham
3 egg yolks
1 cup whipping cream
2 tablespoons all-purpose flour
nutmeg, salt, pepper to season
Instructions:
Preheat oven to 350°F. Grease baking dish.
Peel and dice kohlrabi (approx. ¾-inch dice). Make sure you cut away any tough parts near the root end.
Heat olive oil in frying pan. Add kohlrabi and cook over medium heat about 8 to 10 minutes until almost tender and lightly browned.
Dice ham in same size as kohlrabi.
Put half of kohlrabi in bottom of baking dish. Cover with ham. Put remaining kohlrabi over top.
Mix together egg yolks, cream, flour, and seasonings and pour over kohlrabi.
Bake, uncovered, until golden brown on top, about 30 to 45 minutes.
Notes/Hints:

Sprinkle fresh chopped parsley over kohlrabi in frying pan.
*  *  *  *  *

Unless otherwise noted recipe, images and content © Just like Oma | www.quick-german-recipes.com