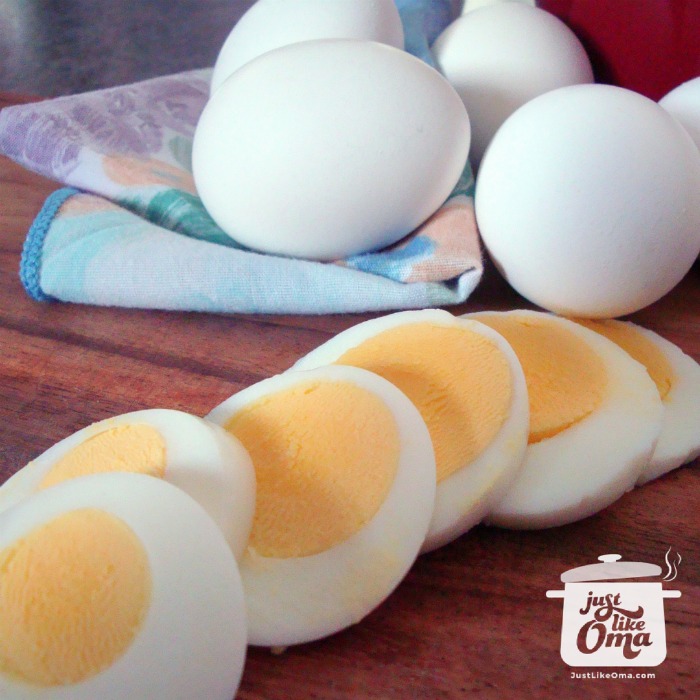 How to Hard Boil Eggs on the Stove or in the Oven: Oma's gekochte Eier

How to hard boil eggs may seem an easy thing for most. But if you've never done it before, then what?
I've two ways to do this. Both work well to make sure the eggs are properly cooked, not tough, and without that greenish/black ring around the yolk.
It really is easy to get perfectly cooked hard boiled eggs every time. The interesting thing is that neither of these methods involve boiling the actual eggs!
Prep Time


5 minutes


Cook  or Bake Time


20 or 30 minutes


Total Time

25 or 35 minutes

Ingredients:
1 dozen eggs (or as needed)
1 - 2 tablespoons for stovetop method
Instructions:
Stovetop Instructions:
Put raw eggs into a pot - single layer.
Cover with cold water until water is at least 1 inch above eggs. Add 1 to 2 tablespoons salt or vinegar.
Bring to boil. Cover with lid. Remove from heat. Let stand 15 minutes for medium eggs, 17 minutes for large eggs, 20 minutes for extra large eggs.
Drain and put into ice water immediately (to help loosen shell for peeling). Either use immediately or refrigerate until needed. 
Oven Instructions:
Preheat oven to 325°F.
Place eggs into muffin tin so that they are resting on their sides.
Bake eggs for 30 minutes.
Remove immediately into an ice water bath.
Either use or refrigerate until needed. Keeps several days in fridge.
Notes/Hints:

Make sure your eggs are stored with their large ends up, so that the yolk is in the middle of the egg. In the picture above, you will see the yolks are on one side, because I wasn't careful when I placed the eggs into the egg container in the fridge. 
Hard "boiling" the eggs in the oven is great when you already have the oven heated from some other baking that you are doing.
*  *  *  *  *

Unless otherwise noted recipe, images and content © Just like Oma | www.quick-german-recipes.com