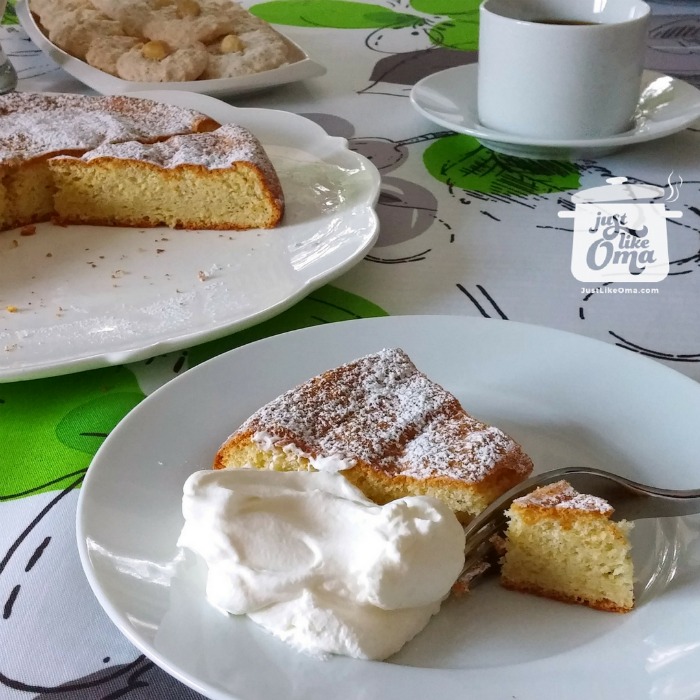 German Hazelnut Torte Recipe – Mutti's Haselnusstorte

This Hazelnut Torte Recipe, aka Haselnusstorte, was one of my Mutti's favorite. Special, yet very easy to make. We all loved it, especially when it was covered with marzipan. 
Or, covered with a chocolate glaze. Or, filled with whipped cream. Then "special" became "extra special."

Prep Time


40 minutes


Bake Time


40 minutes


Total Time

80 minutes

Ingredients:
Cake
5 large eggs, separated
½ cup granulated sugar
1 cup ground hazelnuts
3 tablespoons flour, all-purpose
¼ teaspoon almond extract
Custard Filling (optional)
2 tablespoons cornstarch
2 tablespoons granulated sugar
⅔ cup milk
2 egg yolks
1 teaspoon vanilla extract
Marzipan Topping (optional)
7 ounces almond paste
1 cup powdered sugar, sifted
3 - 5 tablespoons lemon juice
nuts and/or whipped cream to decorate
Instructions:
Cake
Preheat oven to 375°F.
Grease and flour an 8-inch springform pan. See hints below.
Beat egg yolks and sugar in large mixer bowl until pale and creamy.
Fold in hazelnuts, flour, and almond extract.
Beat egg whites until stiff and fold into egg yolk mixture.
Spread batter gently in prepared pan.
Bake about 40 minutes or until wooden pick inserted in center comes out clean. Cool thoroughly, if filling. If not, cake can be served warm.
Filling
Blend cornstarch, sugar, a little milk and egg yolks. Bring remaining milk to boil. Stir hot milk and vanilla into cornstarch mixture.
Return to heat and bring back to boil. Cook a few seconds, stirring constantly, until thickened.
Cool, stirring frequently.
To Assemble Torte
Cut cake into 2 layers.
Spread 1 layer with filling.
Top with second layer.
Knead almond paste to soften. On a surface sprinkled with icing sugar, roll out almond paste to a round large enough to cover top and sides of cake (about 14-inch diameter)
Press onto cake.
Blend powdered sugar with enough lemon juice to give a coating consistency.
Spread over cake and decorate as shown.
Notes/Hints:

To decorate the torte with whipped cream rosettes as shown above, ½ cup heavy (whipping) cream plus 2 teaspoons powdered sugar were whipped and piped onto the cake.
Use roasted almonds or walnuts to decorate.
If filling the cake, then using an 8-inch springform pan is best. That will give a thicker layer to divide. If serving as a plain cake, you can use a 9-inch springform pan, as shown above.
*  *  *  *  *

Unless otherwise noted recipe, images and content © Just like Oma | www.quick-german-recipes.com