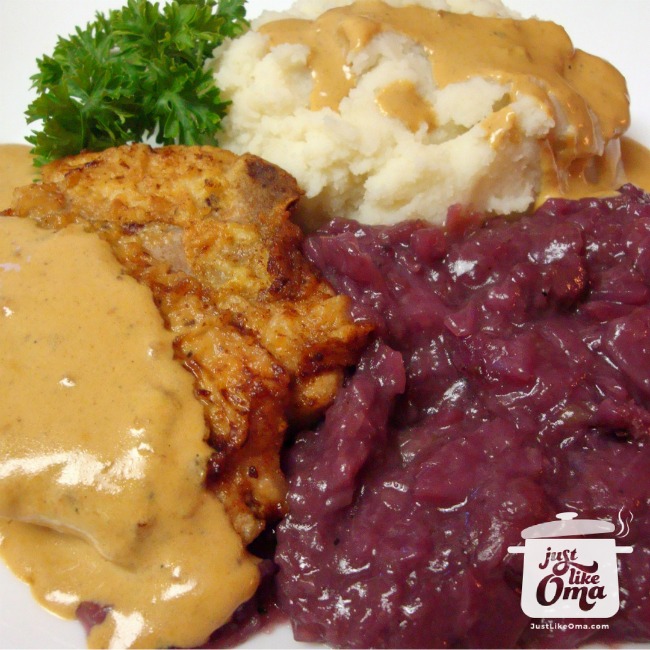 Oma's German Pork Chops, Düsseldorfer-style 

These German pork chops, aka Schweinekotelett, seasoned with mustard are a traditional recipe from the area around Düsseldorf, which is the capital city of the state of North Rhine-Westphalia.
This method uses mustard and flour as the coating, giving a crispy and tasty crust to this traditional German dish.

Prep Time


15 minutes


Cook Time


12 minutes


Total Time

27 minutes

Servings:

Makes 4 servings
Ingredients:
4 pork chops
salt, pepper
prepared mustard (about 2 tablespoons)
flour
oil or butter for frying
2 teaspoons prepared mustard (use Düsseldorf Löwensenf, if possible)
1 cup cream (preferably 35% whipping cream, but 18% will do)
1 cup white wine
Instructions:
Slash the edges of the chops so they won't curl when frying.
Season the chops on both sides with salt and pepper.
Rub a thin layer of mustard over the chops.
Put some flour onto a plate.
Heat the oil (and/or butter) in a large frying pan.
Dredge the chops in the flour and then fry them until done for about 10 to 12 minutes (depending on thickness).
Remove chops when done and keep warm.
Add 2 teaspoons mustard to the same pan and stir to loosen remaining browned bits in the pan. Add cream and wine. Bring to boil to reduce to a gravy. Season with salt and pepper and serve over chops.
*  *  *  *  *

Unless otherwise noted recipe, images and content © Just like Oma | www.quick-german-recipes.com

07.24.2022 revision update