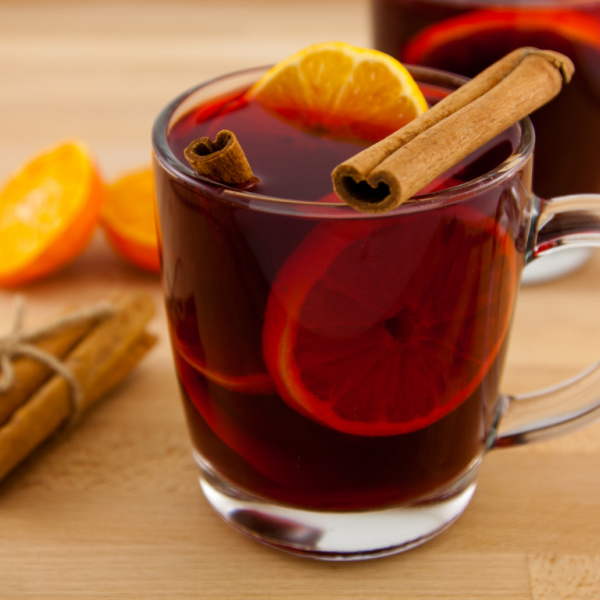 Traditional German Mulled Wine Recipe – Oma's Glühwein

Make this easy German Mulled Wine recipe to enjoy as a traditional German Christmas drink. It'll make you think you're back in Germany at the wonderful Christmas markets.
Prep Time


10 minutes


Cook Time


60 minutes


Total Time

70 minutes

Servings:

Makes 6 5-oz servings
Ingredients:
1 bottle (25 fl oz or 750 ml) red wine (see above)
½ cup water
3 – 4 tablespoons granulated sugar
8 – 10 whole cloves
2 cardamom pods (optional)
1 lemon, sliced
1 orange, sliced (optional)
3 cinnamon sticks
Instructions:
Put into everything into a large saucepan and bring almost to a simmer over low heat, stirring to make sure that the sugar is dissolved. DO NOT BOIL.
Lower heat to very low. Cover and let it steep for at least 1 hour. DO NOT SIMMER OR BOIL.
Strain out the spices and serve.
Using a Slow Cooker:
Heat the wine, water, and sugar in a saucepan until almost to a simmer. Stir to dissolve sugar. 
Pour into a slow cooker and add the remaining ingredients. Set slow cooker to low. 
The glühwein is ready after one hour, but will keep hot until needed if kept on low. It will improve in flavor the longer it steeps.
Notes/Hints:

Serve hot in pre-warmed cups and garnish with lemon or orange slices and cinnamon sticks
Add other spices as desired, such as whole star anise, vanilla beans, juniper berries
Add less or more sugar, depending upon the sweetness of your wine
Replace some of the wine with apple or orange juice if you want a lower alcohol content
Serve with a shot of rum or brandy if you want a 'stronger' drink
*  *  *  *  *

Unless otherwise noted recipe, images and content © Just like Oma | www.quick-german-recipes.com

Insert Reuseable block ... Recipe - (recipe url), remove this block and save page. Test all links.