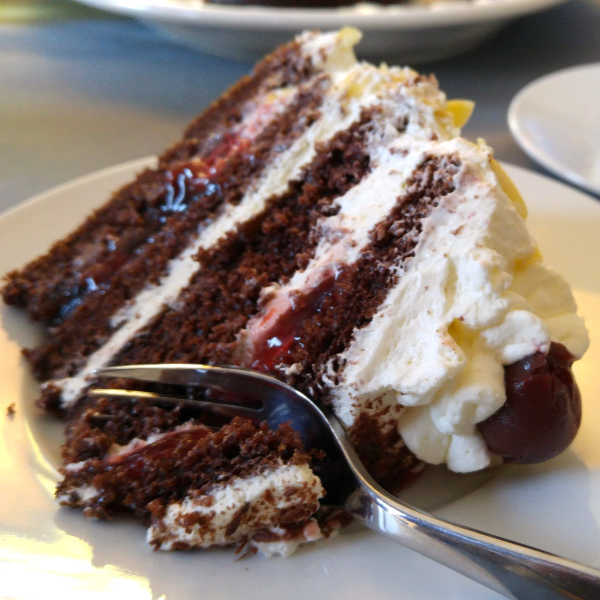 Oma's Easiest German Black Forest Cherry Cake

My German Black Forest Cherry Cake tastes almost like the traditional one! Only this one's really, really easy and super quick to make. It's what you serve when you want German food without the fuss!
It still has chocolate cake, cherries, and real whipped cream, but it uses a cake mix, some pie filling, and freshly whipped cream. Oh, and do add the cherry brandy! Check out the hints below before baking!
Prep Time


30 minutes


Bake Time


package instructions


Total Time

around 1.5 hour

Servings:

Makes 8 - 10 servings
Ingredients:
1 box chocolate cake mix
eggs and oil/butter according to cake mix
1 can cherry pie filling
3 cups heavy (whipping) cream
3 packages Dr. Oetker Sahnesteif (WhipIt) or 3 tablespoons powdered sugar 
Instructions:
Make and bake cake mix according to instructions on box, using 3 8-inch round cake pans. Let cool completely.
Whip cream with Dr. Oetker Sahnesteif according to package instructions. If you are using powdered sugar, add to heavy cream and whip until stiff. 
Place one cake layer on a serving plate. Cover with pie filling, saving some to decorate the top. Place next layer on top. Cover with about a third of the whipped cream.
Gently place top cake layer on top of whipped cream. Spread the remaining whipped cream over the top and sides.
To decorate the top, spoon on the remaining pie filling.
Notes/Hints:

To get a more traditional flavor and fragrance: Sprinkle cherry brandy (Kirschwasser) over the cake layers after they are baked. As well, add about 1 tbsp of cherry brandy to the whipped cream.
Add ½ - 1 teaspoon almond extract to cake mix.
Sprinkle chocolate shavings or sprinkles on top of the whipped cream as shown on cake at top.
Put some sour cherries on top for a traditional topping. Use fresh or jarred. 
Add some whipped cream to a pastry bag with fluted tip or a plastic baggie with one corner cut off to decorate the top. Then your cake will look like a more traditional German Black Forest Cake.
If at all possible, use Dr. Oetker Sahnesteif to stabilize the heavy cream. This will hold the whipped cream longer than using powdered sugar.
*  *  *  *  *

Unless otherwise noted recipe, images and content © Just like Oma | www.quick-german-recipes.com

11.07.2021 revision update