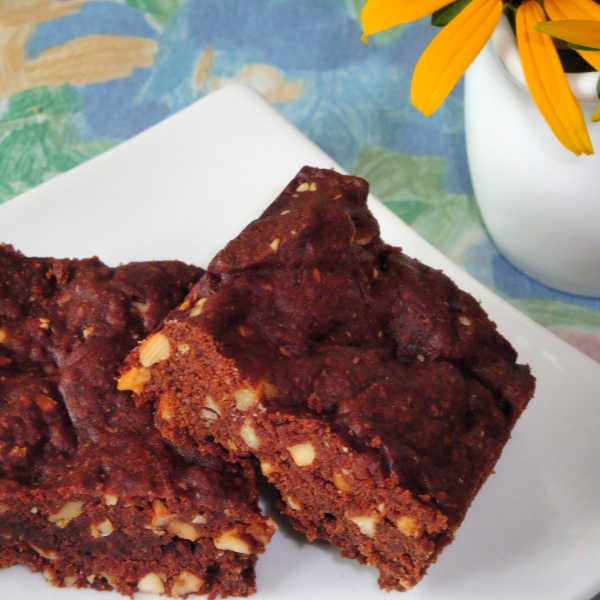 1. Oma's Easy Brownie Recipe

This easy brownie recipe may just become one of your favorites. It's quick and has an easy frosting recipe.
The German twist? Almond flavoring! And that turns them into Schokoladenschnitten. 
Prep Time


15 minutes


Bake Time


30 minutes


Total Time

45 minutes

Ingredients:
½ cup butter
¼ cup cocoa
2 eggs
1 cup granulated sugar
¾ cup flour, all-purpose
½ cup chopped walnuts
1 tsp almond extract (optional)
⅛ tsp salt
1⅓ cup powdered sugar
⅓ cup cocoa
3 tbsp butter
1½ tbsp hot coffee
Instructions:
Preheat oven to 350° F. Grease 8" X 8" pan.
In a small pot, heat butter and cocoa over low heat, stirring constantly, until smooth.
In mixing bowl, beat eggs until frothy. Add sugar, flour, walnuts, almond extract (optional), salt, and cocoa mixture. Stir together well.
Spread in prepared pan, smoothing top.
Bake for 25 - 30 minutes, until wooden pick inserted in center comes out moist, not wet, with batter. Do not over-bake.
Cool slightly in pan on rack before icing.
For icing, beat powdered sugar, cocoa, butter, and coffee until smooth, adding more powdered sugar or coffee as needed until proper consistency is reached.
Spread over warm brownies. Cut into squares.
Notes/Hints:

Sift cocoa and/or powdered sugar if lumpy
Sprinkle chopped walnuts over top of icing, if desired.
Using vanilla instead of almond extract will give you a delicious variation on this easy brownie recipe.
*  *  *  *  *

Unless otherwise noted recipe, images and content © Just like Oma | www.quick-german-recipes.com