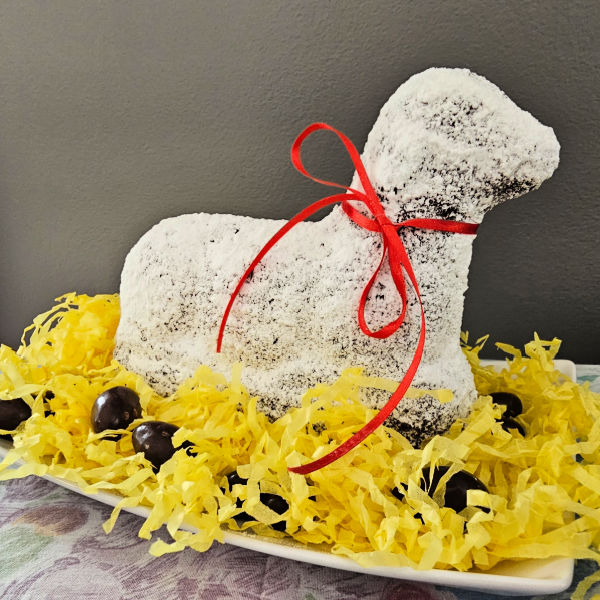 Creative Twist on German Easter Lamb Cake Recipe: (Osterlammkuchen)

Looking for a German Easter Lamb Cake recipe? Look no further! Try Oma's creative and delicious chocolate version to start your own Easter tradition. It's vegan, too!
Prep Time


15 minutes


Cook Time


40 minutes


Total Time

55 minutes

Servings:

Makes 6 servings
Ingredients:
1¾ cups all-purpose flour
⅜ cup + 1 tablespoon cocoa powder, divided
1 cup granulated sugar
¼ teaspoon baking powder
½ teaspoon baking soda
¼ teaspoon salt
¾ teaspoon almond extract
¾ cup warm, extra-strong coffee
⅜ cup 'light tasting' olive oil or other neutral vegetable oil
1 tablespoon powdered sugar

Red ribbon, paper Easter grass, jelly beans or chocolate almonds
Instructions:
Preheat oven to 350°F
Prepare the inside of the lamb cake mold by spraying each side with a cooking spray and then dusting with about 1 tablespoon cocoa powder.
Into a large bowl, sift together all the dry ingredients.
Mix the almond extract into the coffee and pour the wet ingredients into the dry ingredients, mixing until a smooth, dense cake batter is formed.

Spoon batter into each prepared lamb half, leaving the top inch without batter. Close the mold and put the clips in place. Press the batter down into the mold and add more batter if needed, leaving an inch free at the top of the mold. Smooth top of batter. Use the extra batter for cupcakes (see hints below).
Place cake mold on a cookie sheet and bake in the preheated oven for 40 to 45 minutes, or until a wooden toothpick inserted into the center comes out clean.
Let the cake cool in the mold for about 10 to 20 minutes before inverting onto a wire rack. Let cool completely.
Place the Easter lamb on a serving platter. Trim the bottom of the cake if needed to make it flat, so it will stand upright.
Put powdered sugar into a small sieve and dust over the top of your adorable lamb cake. Tie a red ribbon around its neck. Surround the lamb with paper Easter grass and jelly beans or chocolate almonds.
Notes/Hints:

Instead of spraying with vegetable spray, grease with butter, vegan butter, or solid vegetable shortening. 
The extra batter can be used to make cupcakes. I used a mini cupcake pan and got 6 little adorable cakes to decorate. There will bake in about 15 minutes. 
If you're using a different lamb form, the kind with a vent hole in the top half of the mold, make sure you put the batter into the bottom half of the mold without the small hole.
*  *  *  *  *

Unless otherwise noted recipe, images and content © Just like Oma | www.quick-german-recipes.com