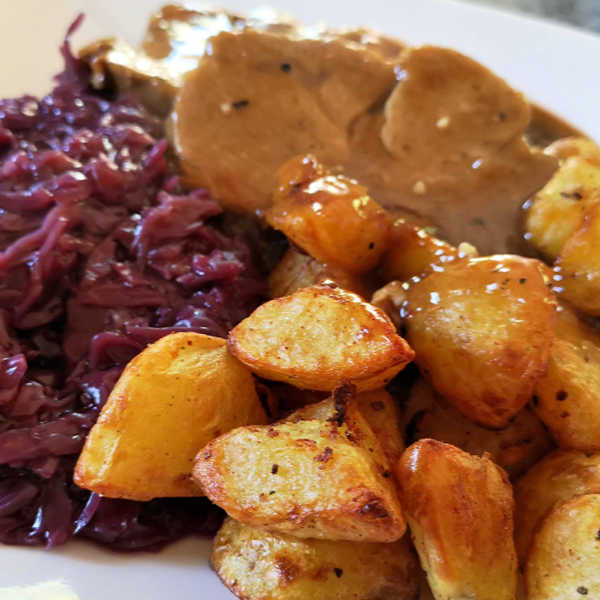 Oma's Stovetop Crispy Roast Potatoes 

These pan-fried crispy roast potatoes, aka gebratene Kartoffeln, are so quick and easy to make. If you have new potatoes or ones that have a fairly thin skin, just leave the skins on, wash by scrubbing well, and cut into wedges or chunks.
Prep Time


5 minutes


Cook Time


15 minutes


Total Time

20 minutes

Ingredients:
1 - 2 raw potatoes per person, cut into wedges or chunks, peeled if necessary
oil and/or butter to cover bottom of pan
salt and pepper
additional seasonings if desired, such as parsley, chives, and/or oregano
Instructions:
Heat oil and/or butter in fry pan on high heat.
Add potatoes. Use spatula to toss potatoes to coat all sides with hot oil. Fry until browned. Using spatula, flip over browned potatoes and continue frying until most are browned. Add more butter or oil if necessary. Cover frying pan with lid. 
Lower heat to medium and continue to fry, occasionally flipping potatoes over, being careful not to let them burn.
Depending on the size of the potatoes wedges or chunks, they should be tender in about 15 minutes. Remove lid for last few minutes to help crisp potatoes.
Season with salt, pepper, and any other seasonings if desired.
Notes/Hints:

Add some diced onion about halfway through cooking time.
*  *  *  *  *

Unless otherwise noted recipe, images and content © Just like Oma | www.quick-german-recipes.com