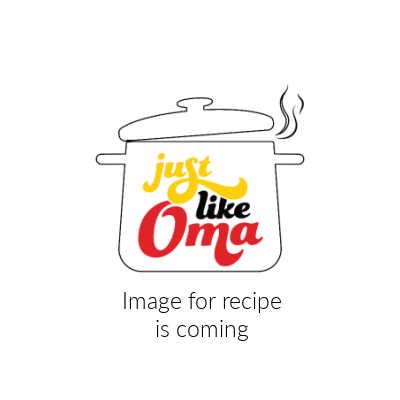 Oma's Crepes Recipe with Cherries

This crepes recipe, aka Crepeauflauf mit Kirschen, is one of the great brunch menu ideas that's so special yet easy to make. An auflauf is traditionally like a bread pudding. Make the crepes the day before if you wish and then just put it together the day you need it. Pop it into the oven and serve about 40 minutes later.

Prep/Wait Time


90 minutes


Cook/Bake Time


50 minutes


Total Time

140 minutes

Servings:

Makes 4 servings
Ingredients:
½ cup all-purpose flour
1 large egg
½ cup soda water
½ tablespoon butter
1 16-ounce jar pitted sour cherries, drained
¼ cup butter
⅓ cup granulated sugar
3 large eggs, separated
½ cup milk
½ cup kefir
Instructions:
Prepare the crepes batter by mixing together the flour, 1 egg, and soda water. Let stand about 1 hour.
Melt the butter in a crepe pan or frying pan and using about ¼ of the batter, make one crepe, browning both sides. Repeat with remaining batter, making a total of 4 crepes.
Let crepes cool. Roll cooled crepes and cut into strips.
Preheat oven to 325°F.
Grease a casserole dish. Layer crepes strips and drained cherries.
Beat 3 egg whites until stiff.
Mix together ¼ cup butter, sugar, 3 egg yolks, milk, and kefir until well mixed. Gently fold in the stiffly beaten egg whites.
Pour over crepes/cherry and bake about 40 minutes or until lightly browned.
*  *  *  *  *

Unless otherwise noted recipe, images and content © Just like Oma | www.quick-german-recipes.com