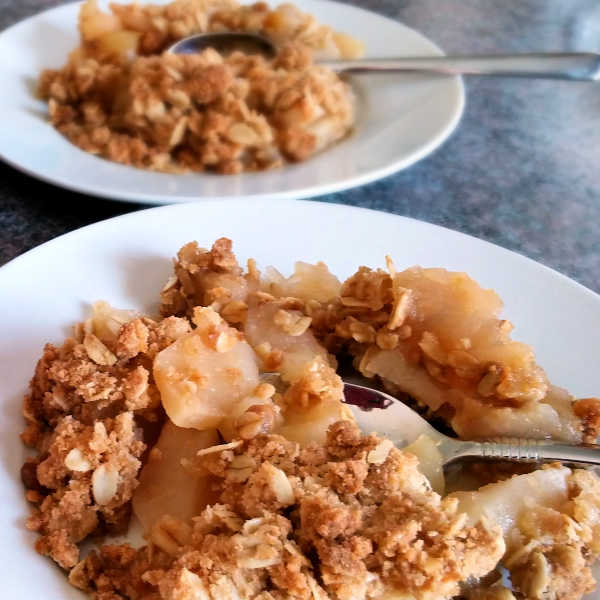 Oma's Best Apple Crisp Recipe

This best apple crisp recipe with oatmeal is juicy, easy, healthy, quick - what more could one want? The usual way of making apple crisp uses all-purpose flour and quick-cooking oats.
For healthier I began using whole wheat flour and old-fashioned rolled oats. Not only healthier, but this German-style apple dessert has a nuttier taste. Delicious!
Prep Time


10 minutes


Bake Time


40 minutes


Total Time

50 minutes

Servings:

Makes 4 servings
Ingredients:
4 - 5 large apples, peeled and sliced (for types, see below)

¼ cup granulated sugar (if needed)
1 tablespoon lemon juice
⅔ cup whole wheat flour
⅓ cup brown sugar
⅔ cup rolled oats
⅛ teaspoon salt
⅓ cup butter, melted
½ teaspoon almond extract (to taste)
Instructions:
Preheat oven to 350°F.
Mix ¼ cup sugar and lemon juice with apple slices. Pour into 8-inch baking dish.
Mix rest of the ingredients together until crumbly. Sprinkle over fruit.
Bake until apples are tender and crumbs are browned, about 40 minutes.
Serve warm or cold
Notes/Hints:

Apple varieties to try, either alone or in combination are Cortlands, Empire, Mutsu or Crispin, Golden Delicious, HoneyCrisp, and Jonathan
Sprinkle cinnamon over apples.
Serve with whipped cream or ice cream. 
All-purpose flour can be used instead of whole wheat.
You can also use a 9-inch round casserole dish.
*  *  *  *  *

Unless otherwise noted recipe, images and content © Just like Oma | www.quick-german-recipes.com