Oma's non-German Quickies
➤ by Oma Gerhild Fulson
FTC Disclosure: Making a purchase via a link on the page? I may earn a small commission on the transaction - at no added cost to you. Thanks!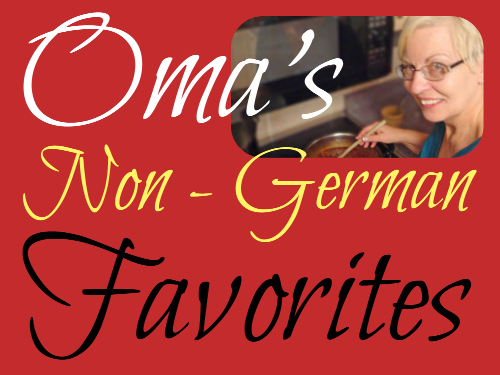 "Quickies" : Recipes that are quick, easy, and delicious.

I'm Oma and I LOVE German food, but I really don't like to spend too much time in the kitchen.
So, many of the recipes on this website I've altered to make them quicker and easier.
Usually I cook German foods, but there are times that I want something quick and easy and not necessarily German!
For example, the 3 Bean Salad, comes from my friend, Heidi. It tastes great beside my easy  German potato salad for a picnic lunch. Following are some of these extra quick recipes - variations on traditional ones and new ones as well. Often, though, they will have a German twist added. 
Quickies: Oma's Non-German Favorites
Quick Cookies and Squares
Quick Desserts
Quick Dinner Ideas
Quick Salads & Dips
Quick Soups
What else can I say about these non-German Favorites?
For example, when our boys were young, we didn't often go out for dinner. But, I really liked Chinese food. I improvised and we had German "stir fry".
Mind you, as much as I tried to cook it Chinese-style, it often had a German flavour to it. Perhaps it was that I was used to over-cooking the veggies -- in what I would call the "old German style".
Desserts are another example. I LOVE marzipan. Very German. Very delicious. So, almost anything I'd make would have almond flavoring instead of vanilla to try to mimic the marzipan flavor. Hence, brownies with a German twist.

Try my version of Apple Galette for my daughter-in-love, Sylvie's, birthday. She loves caramel and apples. The resulting dessert was very close in taste to German Apple Strudel (without the work.)
Here, you'll find some of my favorite "non-German" recipes, often with a German twist added (turning them into easy German recipes!) The only criterion here is that they are quick and easy!
*  *  *  *  *
Thinking of starting your own Handmade Business?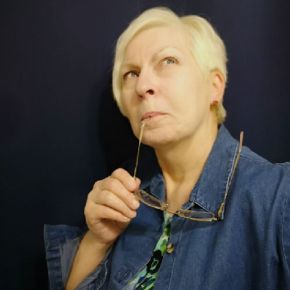 This Oma KNOWS you CAN do it.
How do I know?
Well, if I can do it, anyone can.
I've even figured out how I can help you.
I've teamed up with my own business coach, Renae Christine (yes, do google her!), to bring you this free masterclass. After you watch it, ask me any questions and I'll gladly answer them.
Don't hesitate. I'm not sure how long Renae will keep this free masterclass available.
PS:  Yes, Renae really is as amazing as all the reviews say.
PPS: Yes, the course is for handmade items, but I've used it successfully for my cookbooks. I know others are using her methods for services, direct sales, and even a local ice cream bar & grill that's constantly selling out. You've nothing to lose by taking a look ... and a whole bunch to gain.
*  *  *  *  *
Oma's Cookbooks (downloadable & print)
*  *  *  *  *
Want nutritional information for a recipe?
Copy and paste the ingredient list and the number of servings into Calorie Count. 
It will give you an approximate calculation.

Need help doing conversions
between cups and grams or any such thing?
Use this site to give you all the different conversions for the different types of ingredients. 
---
---
Make every day a BELIEVING day!
"For it is by believing in your heart that you are made right with God, and it is by confessing with your mouth that you are saved."
Romans 10:10 (NLT)