Valentine's Day in Germany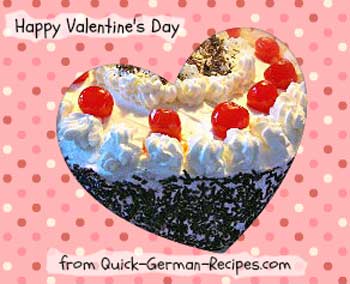 Valentine's Day in Germany is a very special day. A day for lovers to celebrate. A day for flowers. A day for chocolate. A day for something extra special. It's one of those non-German German holidays -- something that really wasn't celebrated until after the Second World War.
Since LOVE is something that is infectious, this special celebration for lovers just couldn't stay away from Germany!

Not as commercial as it is in other countries, Germans still do like to celebrate this day with traditional German recipes that show their love to one another.
Does your SWEETIE love rouladen. Then, that's what you'd make. 
Does your LOVE love chocolate? Then making the very best chocolate cake you can will show your love. Or perhaps make this non-German German Chocolate Cake recipe.
Does your HONEY love kaiserschmarrn? Then that's what you'll be making.
Since there are no traditional German recipes for this imported holiday, you are free to decide how and what you will do to make this a special day. 
And remember, chocolates and flowers are always welcomed. Dinner out and an intimate gift are wonderful, too.
Below, is an example of what I'd make for a special meal for my wonderful hubby in this, our 46th anniversary year!
My Valentine's Day Dinner
I find it interesting that the most traditional of all German meals is also our favorite. A very basic meat and potatoes, German-style.
That means, rouladen and gravy, potato dumplings, and red cabbage. For dessert, as shown in the card above, Black Forest Cake made in the traditional way.
There are so many versions of where Valentine's Day originates from. Just googling will bring up many sites that seem to repeat what the others are saying. Basically, no one really knows!
One thing that is common though, is that now-a-days, this celebration is one of LOVE! 
Some wonderful German Cakes ...
---
More German recipes ...
---
---
*  *  *  *  *

Want nutritional information for a recipe? Copy and paste the ingredient list and the number of servings into Calorie Count. It will give you an approximate calculation.
---
---
Get your FREE poster ... Herbs & Spices in the German Kitchen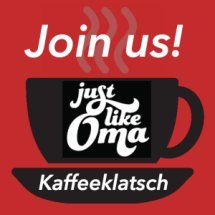 by Subscribing to my FREE Newsletter ...

Just like Oma ~  Kaffeeklatsch*
*Kaffeeklatsch: /ˈkafeːˌklatsh / (noun) an informal gathering for coffee and chatting
Experience Germany: food, people, country, & RECIPES!

---
---
Words to the Wise
"Timely advice is lovely, like golden apples in a silver basket."
Proverbs 25:11 (NLT)