Quick Easter Recipes Contest
Sorry, contest now closed. Winner was announced April 10, 2013.
Do you have Quick Easter Recipes from Germany?
Perhaps you have some Easter party ideas? Or some special Easter dinner recipes? Or perhaps is Easter desserts?
Whatever it is, I'd love to include it here, online. AND, you could be the winner of . . .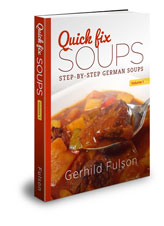 Oma's new eBook, Quick Fix Recipes!
As well as your recipe, include a paragraph or two of your Easter memories pertinent to the recipe, any background information, any special hints or techniques, or anything you think might influence someone to make your recipe.
Share any compliments it's received or any variations you recommend. Include a picture(s) if at all possible.
There is no limit to the number of entries you can submit. Just fill out a new form for each!
The BEST entry WINS! (see Rules for Entry below)
---
Contest Submission Form
Please be as specific as possible with measurements and directions. Don't forget to tell something about your Christmas memories or hints and techniques. Be CREATIVE! The BEST entry WINS!

Make sure you fill out the Author Information. If you want to win, this section is NOT optional.
Contest Submissions from other Readers
Click below to see entries from other contestants

The Igel Has Landed
We made an Igel every year for Easter Sunday Dessert with my mother who came to the country in 1923. Now I make it with my grandchildren. IGEL (Hedgehog) …
Meat Loaf with Hidden Eggs
Here's what I love to make for Easter when there are kids around. The German word for meatloaf is "Falscher Hasse" meaning "Fake Rabbit" and what's better …
Paska....Easter Buns
Love this recipe..My mom used to bake them in coffee tins...they were so yummy! It's Easter again and who can resist a paska bun??? In a blender …
---
Rules for Entry:
By submitting your entry, you agree that the recipe is original (created by you) and has not

been previously published, won another competition or contest, and does not infringe upon the

copyrights, trademarks, rights of privacy, publicity or other intellectual property or other rights of any person or entity.

By submitting your entry, you agree that you are granting permission to publish your recipe on

www.quick-german-recipes.com

as well as its

e-Zine

.

Please be as specific as possible with measurements, directions, size of cans, packages, and pans so others can successfully make your recipe. Include the number of servings, and step-by-step instructions and cooking directions.

If duplicates are received, the entry with the earliest time/date will be considered.

I reserve the right to edit the entry for clarity and grammar, if necessary, for publishing.

Read the "submission guidelines" in the form.

Winner will be notified by email on April 10, 2013. Please make sure that you include your email address. This will be filled in on the next page after the form is submitted.
---
See Previous Contests and Winners:
Quick Christmas Recipes Contest 2012
Grand Prize winner is Christel Schmidt from Campbells Bay, PQ, Canada for her Rolladen and Eggnog recipes. 
---
---
*  *  *  *  *

Want nutritional information for a recipe? Copy and paste the ingredient list and the number of servings into Calorie Count. It will give you an approximate calculation.
---
---
Get your FREE poster ... Herbs & Spices in the German Kitchen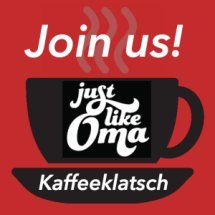 by Subscribing to my FREE Newsletter ...

Just like Oma ~  Kaffeeklatsch*
*Kaffeeklatsch: /ˈkafeːˌklatsh / (noun) an informal gathering for coffee and chatting
Experience Germany: food, people, country, & RECIPES!

---
---
German Recipes
› Easter Contest