Oma's Traditional Potato Pancake Recipe
Yum
I rebelled against making this German Potato Pancake Recipe, aka Kartoffelpuffer, after I had scraped my knuckles grating potatoes. Everyone loved the pancakes, but I had to find easier (and safer) potato pancake recipes. Out came the blender ... and you'll find that recipe linked below. HOWEVER, I've just recently purchased this T-Fal slicer and grater, so now, we're enjoying the traditional German potato pancakes, once again.
---
My most used kitchen tool has to be, or rather, was my box grater, especially for salads and potato pancakes.
However, scrapped knuckles are now a thing of the past!
Making cucumber salad or grating potatoes for potato pancakes goes so quickly and safely with my new toy, this T-Fal electric food slicer and grater.
I wish I would have bought it years ago! It would have been so easy for the boys to help in the kitchen!
I was always hesitant for them to do any grating until they were older. With this, they could have helped earlier.
This T-Fal one comes with 5 different cones to grate, shred and slice a variety of fruit, vegetables, cheese, and even nuts! A perfect addition for your kitchen or for a bride-to-be.
---
In the photo above, hubby has loaded his plate of potato pancakes with bacon and plum jam. Me? I like to sprinkle sugar over mine or have some home-made apple sauce on the side. So lecker!
Oma's German Potato Pancake Recipe
Ingredients:
5 - 6 potatoes, peeled (see hints below)

3 egg
1 small onion, grated

1 tsp salt

4 Tbsp flour

butter or oil for frying

Instructions:
Preheat oven to 300 °F. Put cookie sheet into oven.
Grate potatoes. Put grated potatoes (in batches) into a dish towel and squeeze to remove as much moisture as possible. 
Put 'dried' grated potatoes into a large bowl. Add eggs, grated onions, salt, and flour. Mix well.
Using a large spoon, drop batter into hot oil/butter in a large frying pan. Fry until brown (about 3-4 minutes), flip over, and continue frying until cooked through and crispy brown (about 3-4 minutes).

Remove and keep warm in oven. Continue frying till all batter is used, adding more butter or oil as needed.

Serve with applesauce, sprinkle with sugar, jam, or serve plain.
Makes about 12 'hand-sized' pancakes or 20 small ones.
Hints:
Please use butter, if possible. Oil will work, but you can't beat the butter flavor! Or use a mixture of butter and oil.
Change the quantities as needed. Depending on the moisture content of your potatoes, you may need to add an extra egg. OR, you may need to add more flour. 
Grate your potatoes as fine or as coarse as you wish. 
Adding the onion is optional.
The traditional German recipe calls for peeling the potatoes. Keeping the skin on when you have nice, new potatoes, though, is healthier (and quicker)

In Germany, these pancakes are readily available at outdoor markets and festivals. One of the reasons is that it's easier and doesn't smell up the kitchen with the "frying smells". Never-the-less, fresh, made-at-home potato pancakes are a treat!
I like to use the side burner of my BBQ in the summer to make these in order to keep the frying smells outside.
Oma says,
Did you know that during Hanukkah, the Jews have a potato latke recipe that is very similar to the German potato pancake recipe.
Theirs, however, are fried in oil because the oil is in keeping with the story of the flame that miraculously stayed lit.

Oma's German BLENDER Potato Pancakes ...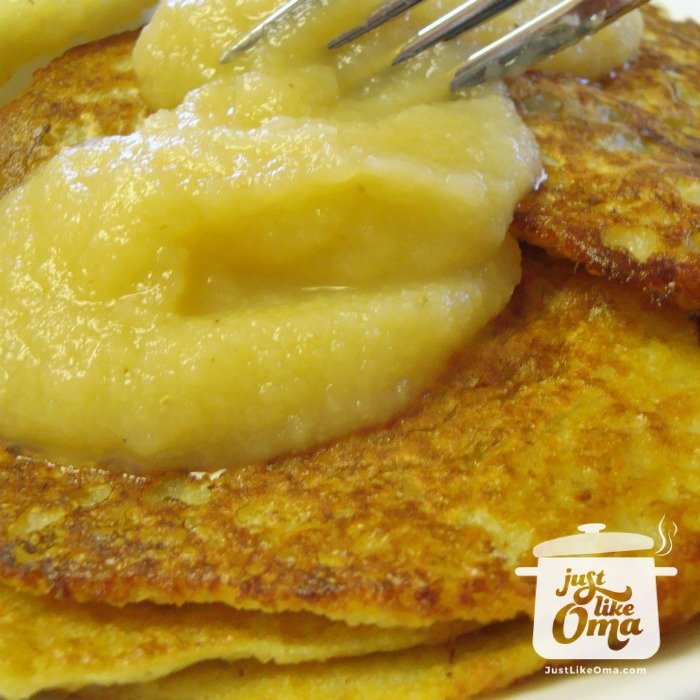 Want an easier way to make potato pancakes? Use a blender. Delicious as well. Here they are served with applesauce on the side.
If you're wanting to make potato pancakes quickly and don't have an electric grater like I do, then use your blender. You won't have the 'shreds' of potatoes, but the flavor will still be there. Check out my recipe here.
More Potato Recipes ...
---
---
---
*  *  *  *  *
Want nutritional information for a recipe? Copy and paste the ingredient list and the number of servings into Calorie Count. It will give you an approximate calculation.

---
---
Get your FREE poster ... Herbs & Spices in the German Kitchen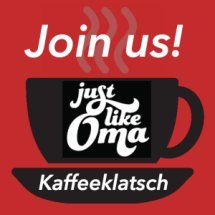 by Subscribing to my FREE Newsletter ...

Just like Oma ~  Kaffeeklatsch*
*Kaffeeklatsch: /ˈkafeːˌklatsh / (noun) an informal gathering for coffee and chatting
Experience Germany: food, people, country, & RECIPES!

---
PIN this ...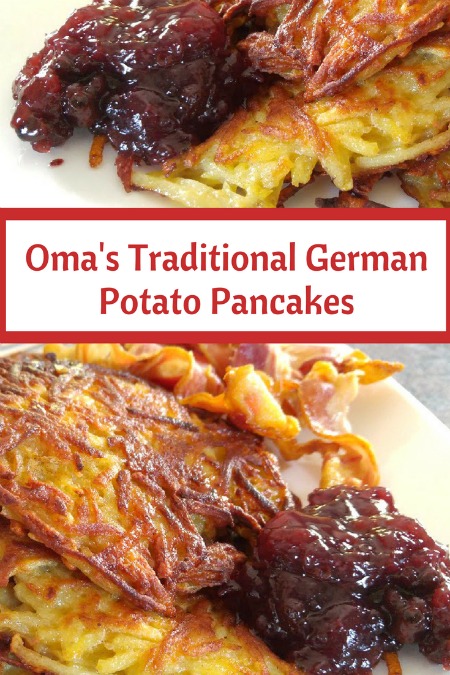 ---
Words to the Wise
"Those who follow the right path fear the Lord; those who take the wrong path despise him."
Proverbs 14:2 (NLT)