Kartoffelklösse, Rotkohl & Beef Flatladen
by Dave Vetterlein
(Barnwell, South Carolina)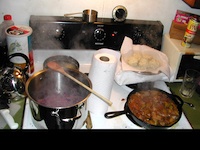 Dinner on the stove.
I made the Kartoffelklösse to go with the Beef Flatladen and Rotkohl.

It was so good, my invited friend and my hound dog asked for seconds! Although I am a klutz most times in the kitchen 'cause I take too many advisable shortcuts, these recipes were easy to follow.

When making the Kartoffelklösse, I was advised to substitute cornstarch in place of potato flour which worked perfectly and didn't change the flavor I remembered. However, I used a soup spoon to mash the potatoes. NOT recommended as quite a few lumps were left behind. Didn't think to use my standmixer; out of sight out of mind. I even added water thinking it better to roll potato balls but I used too much. I could have corrected by using more cornstarch but didn't think of that either and just rolled up the loose potato balls and dropped them into boiling water. Came out just fine!

With the Beef Flatladen, I used a small jar of garlic dill pickles but not the juice. Three pictures tell the story. One of a well fed Basset hound, another of the dinner on the stove and the third of the potato balls. You can see the small pot of boiling water behind the Rotkohl used for the potato balls. Small problem occurred with the Flatladen: too much for my 10in cast iron skillet. Best to simmer without a lid. I had overflow until I removed it to allow liquid reduction.

Merry Christmas everyone!
http://gpsinformation.info/main/merryxmas.swf
Please note, at present
on recipes submitted by readers
, such as this recipe, the print button will print the recipe and the above sections. You can limit the amount printed by selecting 1 or 2 pages on your printer menu. Alternatively, you can copy and paste the recipe into a document and then print it.
*  *  *  *  *

Want nutritional information for a recipe? Copy and paste the ingredient list and the number of servings into Calorie Count. It will give you an approximate calculation.
*  *  *  *  *
---
---
---
Download FREE "Herbs & Spices in the German Kitchen" NOW
by Subscribing to my FREE monthly Newsletter
Just like Oma's Quick German Recipes
Experience Germany: food, people, country, & RECIPES!
---
---
Remember to BOOKMARK this page, so you can find your way back!