~
Oma's BEST recipes

Check it out now ...
Oma's making this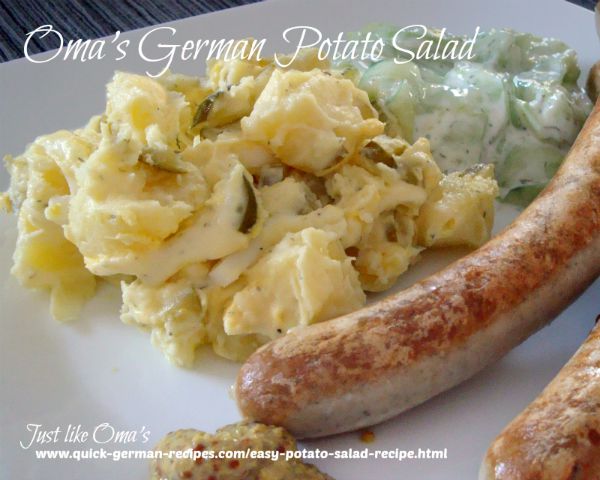 Super easy and quick ... German Potato Salad
Cook
"Just like Oma's"
with ...
Recommended by Chef Glenn
"Sehr Gut, Gerhild!
Your Quick Fix Soups e-book is wonderful. My Swiss wife is going to love the soups that I make for her with your recipes. She already loves my soups, but your e-book will greatly expand the variety
Thank you for making the recipes easy to follow and see with the beautiful photos. The extra tips and options that you give after each recipe are very helpful. Thanks for the printable recipe cards, too!"
---
Need Help?
Quick answers to your questions?
Go to my
You'll find lots of German foodies ready to help!
Share your recipes and photos, too!
Here's what some of my fans say:
Joy B: Our family always used white vinegar instead of lemon juice, and added paprika ... but I think I'd like this version better!   
***
Alice D: Every time I make these I always have to make 3 times as much! Our friends always want some so it never goes to waste.
***
Lori S: This is the best split pea soup I ever made! It disappeared faster than any other soup I have made. It is so easy to prepare the night before an throw together before I leave for work, I will definitely use it often!
***
Sunetra C: Das sieht aber lecker aus.
***

GloriaJean S: For all you "foodies" out there go to this site and sign up for their newsletter.
---