Oma's German Rice (one skillet meal)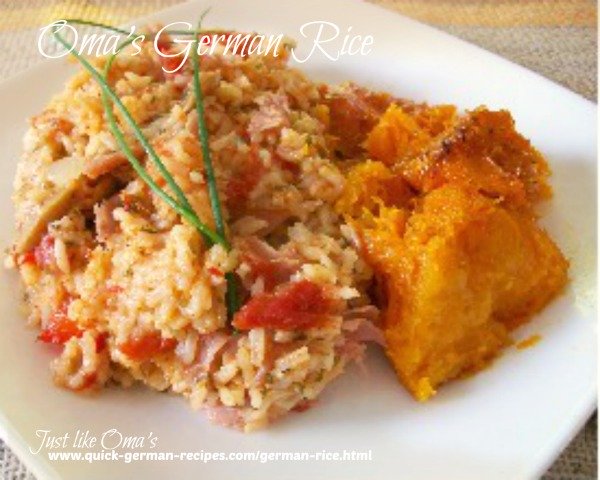 Yum
This German rice dish ("Reistopf") is so quick and easy to make.  It is similar to a recipe for risotto - but you use regular long grain white rice. In the photo, I've added diced red pepper along with the canned tomatoes and mushrooms. Not necessary, but nice. (Try adding some green and/or yellow pepper as well.
You can serve the rice with any vegetable - the dinner above is served with squash - just cook some frozen veggies if you're in a hurry. 

---
Oma's One Skillet Rice Dish
Ingredients:
2 tbsp oil and 1 tbsp butter

1 onion, chopped

2 cups white long grained rice

1 28 oz can tomatoes, diced or sliced

1 10 oz can mushrooms, sliced

leftover ham or other cooked meat, in chunks
3 cups water

1 - 1 1/2 tbsp Vegeta powder (or about 1 tsp seasoning salt)

parsley, salt, pepper

Instructions:
In a large saucepan, heat oil/butter. Soften and slightly brown onion. Add rice. Stir and brown slightly over high heat.

Add canned tomatoes (with liquid), canned mushrooms (with liquid), meat, and about 2 cups water. Add Vegeta powder. Stir. Cover and bring to simmer.

Simmer on medium-low heat, covered, stirring occasionally and adding extra water as necessary. Cook until rice is tender about 20 minutes.

Season with parsley and extra salt and pepper as needed.

Serves 6.
Hints:
Use salt and pepper if you do not have Vegeta.

Add other canned vegetables if desired; omit mushrooms if desired.

If you have any leftover gravy, add it.

If you want to serve this as a side dish to meat, omit the meat in the rice.
---
If you end up with leftover rice, put it in a casserole dish, add a can of condensed mushroom soup, and about 1/2 can of milk. Add some vegetables if you have any. Stir. Sprinkle cheese on top. Cover and refrigerate.
Tomorrow, looking for some quick recipes for supper? Just take from fridge, bake it uncovered at 350° F for about 1/2 hour or until hot. Another easy fast dinner recipe and different than today's.
---
30 Minute Meal Recipes made Just like Oma

---
More German Recipes ...
---
---
*  *  *  *  *

Want nutritional information for a recipe? Copy and paste the ingredient list and the number of servings into Calorie Count. It will give you an approximate calculation.
---
---
Get your FREE poster ... Herbs & Spices in the German Kitchen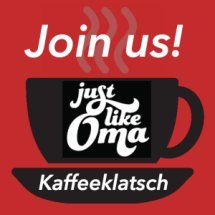 by Subscribing to my FREE Newsletter ...

Just like Oma ~  Kaffeeklatsch*
*Kaffeeklatsch: /ˈkafeːˌklatsh / (noun) an informal gathering for coffee and chatting
Experience Germany: food, people, country, & RECIPES!

---
---
German Recipes

›
30 Minute Meals
› German Rice Dinner
Words to the Wise
My child, eat honey, for it is good, and the honeycomb is sweet to your soul. If you find it, you will have a bright future, and your hopes will not be cut short."
Proverbs 24:13-14 (NLT)