German Meat Recipes ~ Just like Oma's

There's something wonderful about having a German meat-and-potato dinner just like your Oma used to make.
So deliciously wunderbar!
With gravy and red cabbage on the side, the traditional German meal is both hearty and satisfying.
I love food as much as most people.
I just don't like spending too much time in the kitchen.
That's why you'll find traditional German meat recipes here, made easier and in modern ways.
So, why wait? Order my eBOOK today. It's immediately downloadable so you will soon be making meals just like your Oma made.
Just like Oma ~ German Meat Recipes includes my favorite recipes such as  . . .
Rouladen
Schnitzel
Sauerbraten
Roast Lamb
as well as . . .
Jägerschnitzel

Breaded Pork Chops
Kasseler
Bratwurst
Düsseldorfer Pork Chops

Flatladen (Rouladen alternative)
Roasted Chicken Dinner

Baked Pork Chops with Sauerkraut

Meatloaf
Roast Duck
Chicken Rouladen (Cordon Bleu)
Königsberger Klöpse

Calves' Liver and Onions

and . . .
tips on making Sauerkraut to serve along side and how to check your seasonings before you roast your meatloaf ... etc ... etc ...
You'll have all the German Meat Recipes you'll need, all in one place, ready to start cooking right away. Perfect for the holidays ... for your family ... for your guests!

Get your Just like Oma ~ German Meat Recipes ebook right now ... download immediately, and start to cook!
I'm confident that you'll enjoy my  PDF eBook, but should you disagree, I'll refund you right away. That's right.
Your satisfaction is guaranteed.
If at any time within 60 days from buying any eBook, you decide that this is not what you expected, just email me and I'll return your money instantly, no questions asked.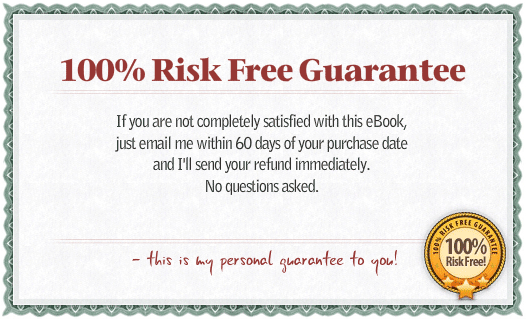 Intrigued? Decide for yourself ... it's RISK FREE ... you won't be disappointed!
Get your Just like Oma' ~ German Meat Recipes  ebook right now ... download immediately, and start to cook just like Oma!
---
Good News!
"For the Kingdom of God is not a matter of what we eat or drink, but of living a life of goodness and peace and joy in the Holy Spirit."
Romans 14:17