German Food Online
Looking for German food online ... someplace you can find just the right ingredients for your German cooking and baking?

I live in Canada and am blessed with the German deli not too far away.
But even they don't have everything I need.
So, it's online shopping for me!
The problem often is that the shipping is expensive. So, I've done a bit of research and found the following is among the most economical, both for prices and shipping. 
So, check out what you need ... and do your own comparison ... I think you'll love using GermanShop24 for all your German shopping. Don't forget the marzipan!

GermanShop24 is just renovating their website ... and the 'ad link' below looks like it's not working ... but it is. Just click on the little 'Ad' sign ... and you'll get a chance to look at their new site and browse through all the yummy German stuff they have.

Or ... grab your German groceries and kitchen things here ...
Looking for these German Ingredients?
Here's what I use to make Quark ... a Greek Yogurt Maker. 
Then there's Quarkkuchen ... so click on the photo to take a peek. 

Yes, I love my Spätzle lid with the scraper to make these noodles.

Click on the image to take a peek ... and see if it's something you need / want as well :)
I love using my new Cuisinart Slow Cooker!    (I gave away my old one!)
With a 24-hour timer and an automatic Keep Warm feature, I LOVE this!

---
*  *  *  *  *

Want nutritional information for a recipe? Copy and paste the ingredient list and the number of servings into Calorie Count. It will give you an approximate calculation.
---
---
---
Get your FREE poster ... Herbs & Spices in the German Kitchen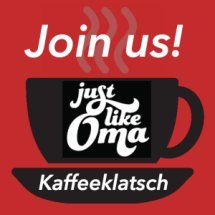 by Subscribing to my FREE Newsletter ...

Just like Oma ~  Kaffeeklatsch*
*Kaffeeklatsch: /ˈkafeːˌklatsh / (noun) an informal gathering for coffee and chatting
Experience Germany: food, people, country, & RECIPES!

---
---
---
German Recipes
› German Food Store
Make every day a JOYOUS day!
"This is the day the LORD has made. We will rejoice and be glad in it."
Psalm 118:24 (NLT)