Looking for an 'English' German Cookbook?
Here's my favorite German Cookbook that I received from my Mutti when I got married over 46 years ago. I still use it, missing pages and all!

But, it's in German. Not a problem for me, but it is when someone asks German recipes in English! As well, the ingredients used are often not available outside of Germany.
The solution? Write my own cookbooks, using readily available ingredients! 
Below is my current selection of ebooks with recipes I've learned from my Mutti. She taught me to cook wisely, making the traditional recipes in a quicker, easier, and often cheaper way.

Use Oma's German Cookbooks (in English)
and start cooking -- the German Oma way!
Oma Gerhild's Easter Feast 
(eBook)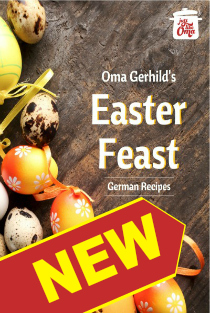 Easter, Ostern, in Germany is a delight that impacts the senses, both spiritually and physically.
The celebration starts on the Thursday before Easter and continues throughout the weekend.
Food is one of the main attractions! 
I've chosen my favorites to include in my Easter Feast, part of my holiday collection.
Do make them part of YOUR celebration, as well.
Here's what you'll make .... with my help ...

Asparagus Salad
Frankfurter Green Sauce
Broccoli Cheese Soup
Spring Green Pea Soup
Brötchen ~ Bread Rolls
Kaiserschmarrn X2
Salmon & Spinach Casserole
Meatloaf with hidden Eggs
Roasted Lamb
Slow Cooker Beef (like Rouladen)
Creamy Green Beans
Sweet/Sour Red Cabbage
Scalloped Potatoes
Thüringer Potato Dumplings
Apple Strudels X2
Kirschenmichel ~ Bread Pudding
Cream Puffs (Swans)
Osterzopf - Braided Easter Bread 

Schokosahne (Chocolate Cream) Torte
You'll also get many tips on making alterations, substitutions, and variations to make the above recipes just the way you like.
So, why wait? Order my Easter Feast eBOOK today. It's immediately downloadable so you can start your Easter cooking and baking right away!
---
Just like Oma ~ German Meat Recipes
(eBook)
There's something wonderful about having a German meat-and-potato dinner just like your Oma used to make.
With gravy and red cabbage on the side, the traditional German meal is both hearty and satisfying.

I just don't like spending too much time in the kitchen.
That's why you'll find traditional German meat recipes here, made easier and in modern ways.
You'll be able to make these, just like your Oma did ...

Rouladen
Schnitzel
Sauerbraten
Roast Lamb
Jägerschnitzel
Breaded Pork Chops
Kasseler
Bratwurst
Düsseldorfer Pork Chops
Flatladen (Rouladen alternative)
Roasted Chicken Dinner
Baked Pork Chops with Sauerkraut
Meatloaf
Roast Duck
Chicken Rouladen (Cordon Bleu)
Königsberger Klopse
Calves' Liver and Onions
---
Quick Fix Soups
(eBook)
This eBook has . . .
dozens of full-color photos for 19 of Oma's favorite soup recipes
step-by-step instructions
recipe alternatives and suggestions
handy tips and advice to help you in the kitchen
printable 3"x5" recipe cards included for quick, easy access to your favorite recipes!
ORDER NOW and you'll get 2 BONUSES
BONUS #1 - Printable 4"x6" Quick Fix Soup Recipe Cards

BONUS #2 - My 'Soup Kitchen' Staples: Charts of staples for your pantry, fridge, and freezer, as well as a printable shopping list. 
---
Top 10 Oktoberfest Recipes
(eBook)
Put on the oom-pah-pah music, decorate your table in the cobalt blue and white colors of Bavaria, and celebrate your very own Oktoberfest.

Don't forget your dirndl and lederhosen!!
Order this eBOOK today. Celebrate Oktoberfest with real Oktoberfest food!

---
Just like Oma's ~ Christmas Baking
(eBook)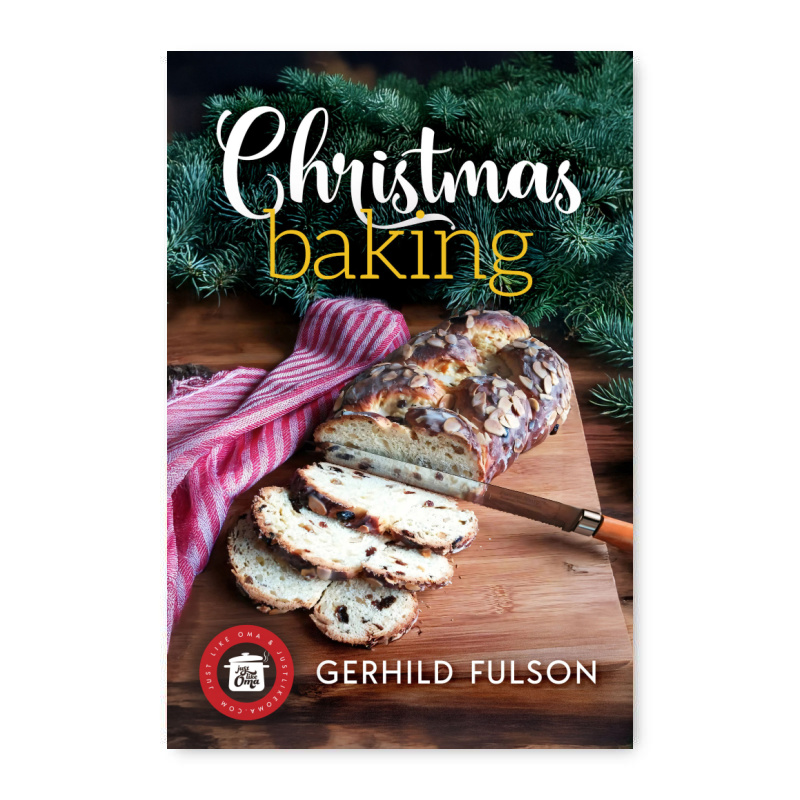 I've chosen my favorite dozen to include in my Just like Oma's ~ Christmas Baking collection.
Many are my own, others my Mutti's recipes, and additional ones for friends.
Some recipes are favorites on this site. Other ones are new and only in this book.
The hustle and bustle of the season relies on quick taste-tested recipes.
I've also included some of my tips to make your holiday baking easier.
Here's what you'll bake .... with my help ...

Bombe
Königskuchen
Poppy Seed Roll
Quarkstollen
Dominosteine
Lebkuchen
Vanillekipferl
Zimtschnecken
Zuckerplätzchen
Black Forest Dessert
Kokosflocken
Sandgebäck
Learn to make Lebkuchen Spice Mix and Vanillezucker for ALL your Christmas baking!
You'll also get my baking tips sprinkled throughout the ebook!
Order this eBOOK today. Celebrate Christmas with real German Christmas treats!

   Also available from your favorite vendor:
---
Top 10 German Recipes
(eBook)
Order this eBOOK today and revive the memories of Oma's or Mutti's kitchen with these Top 10. Then, pull out your pots and pans and start cooking your very own Top 10 German recipes!
ORDER NOW and you'll also get
BONUS  - Printable 4"x6" for Top 10 German Recipe Cards
---
Downloadable eCookbooks
---
All Books come with a No-Questions-Asked Guarantee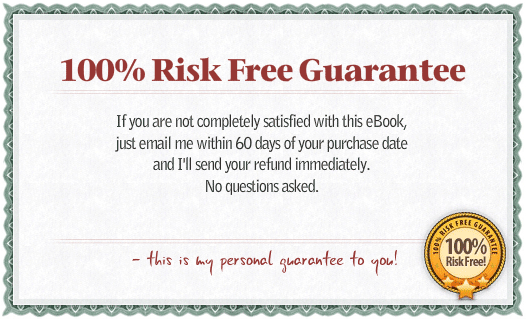 These books are downloadable eBooks (PDF file). Immediately after your purchase, you can download your ebooks and start cooking within minutes. These EBOOKS and BONUSES are in Adobe PDF file format.
If your computer doesn't have the Adobe Reader software, you can install it for free. If you have any trouble, contact me and I'll help you.

Read what others are saying about Oma's ebooks


"Love your book and especially those "Oma says".

My favorite one was the one where you tried to hide the onions in the soup because your husband doesn't like them. I had a good laugh over that one.
It reminded me of when my mother tried to hide garlic in all the cooking, but my father always knew she did. He hated garlic!
What a charming and warm cookbook. Makes one feel young again and at home in the kitchen with their Mutti and Oma.
Thank you, Gerhild, for making this book for us. You know, I am so glad I looked up your website. Now, I have something else to look forward to."
Roswitha Seeman
---
"These delicious soups are truly made in no time at all, quick, as the title says, with ingredients that you most likely have on hand. 

What a relief it is not having to go shop for ingredients you don't know how to pronounce! Included in the book are many ideas of substituting the original ingredients and turning-up the taste a notch or totally changing the taste of the soup.
The directions are easy to follow and easy to understand. You'll have no problem serving these soups to your guests. They are foolproof & yummy delicious!
What I love the most is that you add a little bit of this and a little bit of that. You don't have to be exact at all with measuring the ingredients. And cutting up the vegetables doesn't have to be pretty either. Gerhild makes it so easy! She takes away the fear of messing up or trying something new.
'Quick Fix Soups' is a great addition to my recipe collection, one I don't want to miss. Thank you, Gerhild, for inspiring us all and saving us time in the kitchen!"
Heidi Moellgaard
---
"It was a real pain going through this eBook! Why?

The photos are so 'tasty' looking that I spent considerable time looking at each photograph. 
So it took a really long time to go through the entire book. The photographer and the book designer have done an excellent job.
There really seems nothing to criticize about this book. Tried hard, but I really liked everything. Congratulations once again on a great publication."
Prasanna Vishwasrao
---
"Your eBook - WOW. It is excellent. Great write-ups, great layout, great pictures, colours, everything!!

The Oma touch is really unique too. The recipe cards at the end is a nice touch.
In summary - WOW - great job. Love it and I will be making most, if not all, of these recipes."
Noreen Loos
---
"An excellent book. Very easy to follow along.

For the beginner, this is the cookbook for them. For the seasoned cook, this too is for them!
The recipe cards are a great bonus :-)
The pictures speak volumes, made me hungry. The best part is this -- I can see how those on special diets can modify to their needs."
Kate
---
"'Quick Fix Soups' has to be one of the best soup books I have ever seen, the way it is presented, the book cover, colorful and inviting. Your Table of Contents says it all: quick and accessible.

I love the introductory story filled with interesting nostalgia, along with pictures of your granddaughters.
The recipes are presented with step-by-step procedures. 'Oma says' are full of hints, and 'a bit of this and a bit of that' are rewarding suggestions.
What a great idea to have recipe cards, again quick and easily accessible.
Excellent cook book. I can hardly wait to get started cooking soups. We love eating soup. And, what I like about these recipes, is that I don't have to be all day cooking in the kitchen. 
'Quick Fix Soups' is for me!"
Melania Orasch
---
"Sehr Gut, Gerhild! Your Quick Fix Soups e-book is wonderful. My Swiss wife is going to love the soups that I make for her with your recipes. She already loves my soups, but your e-book will greatly expand the variety
Thank you for making the recipe easy to follow and see with the beautiful photos. The extra tips and options that you give after each recipe are very helpful. Thanks for the printable recipe cards, too!"
Chef Glenn
---
"Wunderbar! A must-have book for every household, and a mouth-watering walk down memory lane for me. I will forever cherish my copy of "Quick Fix Soups", Gerhild.
These many jewels of good old-fashioned frugal recipes, all wrapped in beautiful photographs and sprinkled with time-tested "Oma says" advice, brings back fond memories of my childhood overseas.
Many of your pearls of wisdom are the very same secrets of our success for consistently eating healthy, minimizing time in the kitchen, cutting food waste, and keeping our grocery bill below $150 a month. But, I gleaned many new and ingenious ideas from you, too.
Thank you, Gerhild, for pulling it all together into this fantastic gem of a book and extremely handy recipe cards so my family can refer to them again and again for years to come."
Marc A. Smith
---
"Pretend you're a German Oma and just start cooking!"
Perhaps you never learned to cook. That's OK, Oma will help. These recipes are written so even the beginner cook can make them successfully.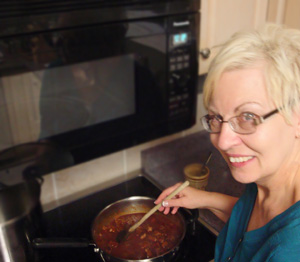 You see, my Mutti taught me to improvise. She explained how by adding a bit of this and a bit of that, the flavor could be improved. She also taught me to experiment.
I've experimented, so you don't have to. I've made all these old-fashioned recipes for years, and they didn't take hours to make.
You'll be given variations, substitutions, and alterations -- ways to change up the recipe to create something totally new.
PS: I'm confident that you'll enjoy these eBooks, but should you disagree, I'll refund you right away. That's right. Your satisfaction is guaranteed. If at any time within 60 days from buying any eBook, you decide that this is not what you expected, just email me and I'll return your money instantly, no questions asked.

---
---
---