Quick Fix Recipes
Top 5 Summer Recipes
Hallo,
Summer is upon us here in southern Ontario. Temperatures are hovering in the mid 30's C (that's in the 90's F)! and HUMID! Too hot to be in the kitchen for long. Need quick and easy and COOL dishes.
Listed below are the Top 5 Summer Recipes PLUS an extra one that you'll want to save for cooler days. As well, I did an experiment that I posted on Facebook. Since some of you can't access that, I'm including it here.
It's not a German recipe, but we was invited by my dear German friend, Heidi, for a Domino and Kubb Dinner party. I knew she'd have some amazing German dishes and I offered to bring dessert. I knew it needed to be refreshing, but I also wanted special AND I didn't want to turn the oven on.
I had seen something interesting all over Pinterest and Facebook. (Don't know who originally came up with the idea though.) Well, I ended up tweaking and changing things a bit because the experiment was a fail, but the final dessert was a hit.
First Watermelon Cake
Here's the experiment. I wanted to make a watermelon cake, covered in frosting. A real watermelon cake. Made with a real watermelon. My concern was how long the frosting would stay on the sides until it slide off. So a couple of days before the party, I tried this:
Top Left Cut off the top and bottom ends of a cold watermelon. Stand on one end and cut the rind off and create a round 'cake-shape'. Pat the outside of watermelon dry with paper towelling. Mix together 4 cups of 0% Greek yogurt with 1/2 to 1 package of instant vanilla pudding powder and about 1 tsp. lemon juice. The amount of powder needed will depend on the consistency of the yogurt.

Spoon frosting on top and sides. Decorate with about 1 cup of fresh berries/fruit. Keep refrigerated until serving!

Bottom Right Hubby couldn't wait any longer for a piece. Served this at the 1 1/2 hour mark. Delicious!

Top Right At the 3 1/2 hour mark, frosting is starting to slip off!

Bottom Left At the 4 1/2 hour mark. Frosting sliding off.

Conclusions: Serve this absolutely delicious and refreshing cake within about 2 hours, keeping refrigerated until serving.
Second Watermelon Cake
Even though the above dessert was delicious, it just wouldn't do for a /2 hour trip in the car and then standing around at Heidi's Domino and Kubb Dinner Party, so here's what I came up with instead: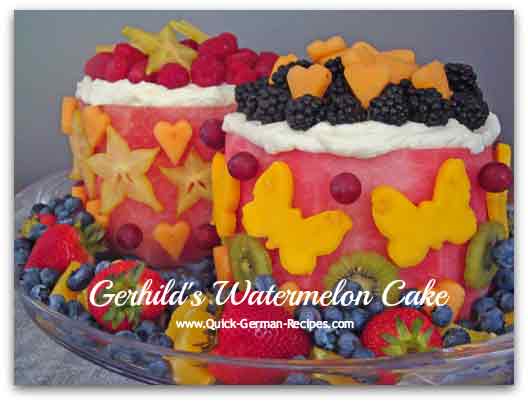 Almost the same as the cake above, only this time I used two small watermelons, since they would fit on my platter nicely. I used the same frosting on top and then decorated the sides with all sorts of fruits.

The butterflies are cut with a cookie cutter from slices of mango. The hearts are cut from slices of cantaloupe. Then there are slices of star fruits and kiwis. Grapes are also added. All are held on with toothpicks. The tops are covered with raspberries, blackberries, extra star fruits and cantaloupe stars. Surrounding the watermelon cakes are strawberries, orange segments, and blueberries.

The whole thing was so refreshing and well received. I'll certainly be making this again for summer parties. It was kept in the fridge for about 4 hours before serving and there was no problem at all with any frosting slipping off.
Top 5 Summer Recipes
Here they are, the Top 5! Four are already posted on the website, and one is another taste-testing experiment that I did, just for you, my 'Quick Fix Ezine' subscribers.
#1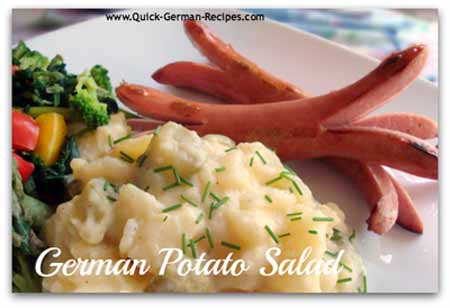 The Warm German Potato Salad has become one of our favorite side dishes to enjoy with our German wieners. Yes, it uses the stove, but it cooks in just 15 minutes and that's it. It's different and it's delicious! A must try!
#2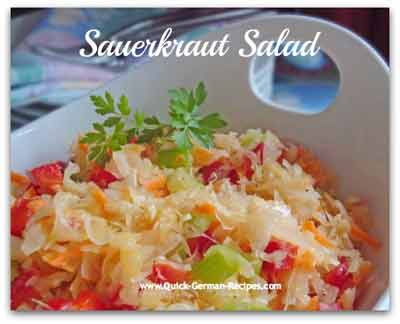 Oh, so German is this Sauerkraut Salad. Yes, it's fantastic for Oktoberfest, but it's also so refreshing for a summer picnic. On top of that, raw sauerkraut is so healthy. This one's a must, too!
#3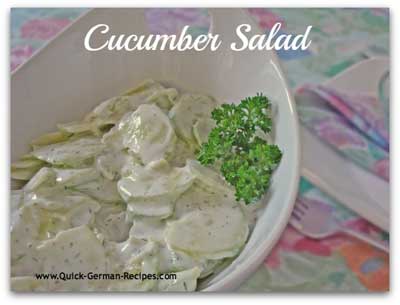 Another, so traditional German salad, Cucumber Salad, is a definite MUST for any picnic or summer buffet. Actually, it fits anytime! This one has over 10,000 views on Facebook alone within just the last 2 weeks!
#4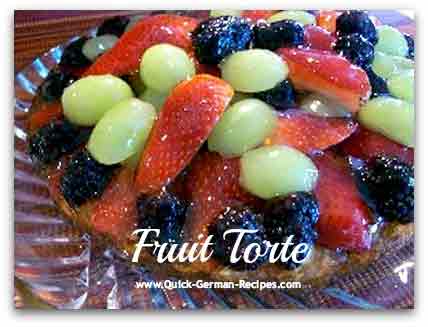 OK, this one does use the oven, but only for a short time. It's covered with all the fresh berries and fruits you can think of, limited only by your imagination. BTW, it's gluten-free as well. Try my Fruit Torte this week.
#5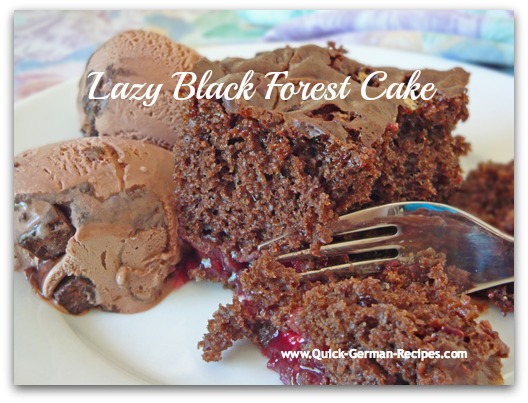 This one's not on the website, but I'm sharing just with you. Again, another experiment. I had read about something called "Lazy Black Forest Cake" and "Poor Man's Black Forest Cake", and wanted to know if it was good enough for the website.

You see, I love Black Forest Cake. That's why I had previously created my own version, my Easiest German Black Forest Cake recipe.

But these other ones sounded intriguing. Again, the original source is hard to pin down and there are many variations. So I thought I'd experiment with it so you can add it to your recipe collection if it turned out.

Instructions:

Put a package of miniature marshmallows in the bottom of a greased 9 x 13 pan. Prepare a chocolate cake mix according the the package instructions. Pour the batter on top of the marshmallows. On top of that, drop spoonfuls of cherry pie filling (use 1 can). Bake according to chocolate cake mix package instructions, increasing the time by about 15 - 20 minutes, or until cake tests done.

The pie filling sinks and the marshmallows rise. Served with Chocolate Brownie Ice Cream on the side, it made a delicious, if not, very sweet dessert. Tastes just like a sweet chocolate cake with cherries.

Easy, but not really a Black Forest Cake taste. I don't see myself making it again. I'm sticking with my easy recipe, even the traditional from-scratch recipe -- a winner again this summer.
A Quick Note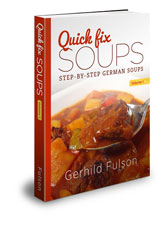 There's been such a good response, I've decided to keep the special reduced price on Oma's ebook Quick Fix Soups just a bit longer.

I'm also just in the "thinking stage" of deciding what to write and publish next.

Not sure if I'd like to do a whole cookbook or just smaller "themed" ones like the soup one.

Any ideas?

As well, I'd love to know what you're wanting to see on the website, so do drop me a line and let me know.

Many are using the Facebook page to ask for and to share recipes, tips, ideas, and comments. But, I'd like to make sure the website also includes what you'd like as well.

Just for You!
Roswitha Seeman, my German online friend, has been sending me quite a few special recipes that she recalls from long ago. Here's one for Head Cheese, called Sülze, Schwartenmagen or Presskopf in German. It's one she got from her sister's cookbook, some 30 years ago, called "Back to Basics" by Norman Mack published in 1981.

Her recipe actually reminds me of my Mutti's Sülze as well. I loved eating it with vinegar to taste. I need to make some, once it's a bit cooler out!
Back to Basics Head Cheese
Ingredients:
4 cooked pork hocks (reserve cooking water)
2 tbsp salt
2 tbsp black pepper
1 crushed bay leaf
1/2 tsp tabasco sauce
1 tbsp each of garlic, onion powder, sage, mace, savory and cloves
Instructions:
Remove the meat from the bones and coarsely chop in food processor.
Add the ingredients and mix well. Blend into reserved water and stir well.
Pour into loaf pans, cover with saran wrap and refrigerate. Keeps well for at least 2-3 weeks.
My Hints:
When cooking the pork hocks, just barely cover with water and simmer until tender. Depending on size, this can take about 2 - 3 hours or so.
Drain the hocks, keeping the cooking water. This water contains the 'gel' that is pulled from the hocks during the cooking process.
To make it easier to remove the head cheese from the loaf pans, line them with saran wrap so that there are no holes or seams. Then, you can just lift out the finished head cheese once it has set.
Your Turn
Do you have any favorite recipes or photos to share? You can either post them directly to my website at Share your Favorite Recipe or post a picture and any information on our Facebook Fan Page for all the world to see!

Any questions? Just ask!

In fact, here are two questions that are waiting for answers. I'll post them here, just in case you're not on FaceBook yet.

Cindy Swart asked:

"So my husband and I used to eat at a German Restaurant in Omaha NE and they made the salad - little lettuce, sliced tomatoes, green beans, sliced onions all separated on a place and this dressing to die for. We have never been able to find it. Can someone please help me? Or at least tell me what to put in the dressing?"

This reminds me of the absolutely delicious salads we enjoy on our trips to Germany. You can answer this at Contact Me or on Facebook.

Lauren Parsons asks.

"I have a couple of johannesbeeren (red currant) bushes in my yard, and I am looking for some good recipes to use with them. Can you help? Bitte?"
---
Well, that's if for now. I hope you're following all the news on my Facebook Fan page as well.

Tschüss and guten Appetit,
Gerhild Fulson


---
If you received this email forwarded from a friend, why not sign-up for your own monthly copy of Quick Fix?


---