Quick Fix Recipes
Newsletter Issue #26 - February 5, 2013
Super Supper Idea
Hallo,

Sometimes, time seems to fly. I get so busy and before I know it, it's supper time. I stand before the fridge and wonder, what will I make?

Anyone else ever have those moments?

I had been busy the past couple of months, working on the Quick Fix Soups ebook. Because of that, we'd been having lots and lots of soups. Soups of every kind. I'd often make double batches, just to have soup in the fridge so supper would always be easy.

Now, though, I stood before an empty fridge, having just recently returned from a wonderful trip to Cuba. What to make?

How wonderful to have a freezer full of prepared foods (soups) and a microwave to heat them up.

But then, just last week, I told myself it was time to make a super supper for my sweetie, who has lived off soups the past several months.

So this is what I made. No recipe. Just 'a bit of this and a bit of that'. It was fun cooking from what I remembered my Mutti doing -- and then, improvising brought about a new way to do the kale. Delicious!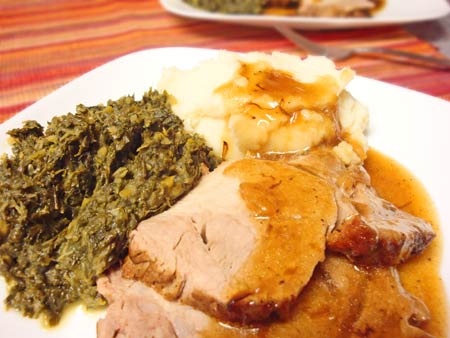 Braised Pork Roast
Ingredients:
3 lb boneless pork rib roast
about 2 - 3 tbsp oil
1 onion, peeled
salt, pepper
2 - 3 tbsp cornstarch
Instructions:
Brown the roast on all sides over high heat in the oil in a deep saucepan.
Quarter the onion and add it just when the last side of the roast is being browned.
Sprinkle the roast with salt and pepper.
Carefully add boiling water (watch out for the steam), until there is about 1 inch of liquid in the pan.
Cover pan and simmer gently about 1 1/2 hours or until meat is tender.
Remove meat and add about 1 - 2 cups boiling water to the meat juices in the pan and stir.
Dissolve the cornstarch in a bit of cold water and add just enough to the pan to thicken the gravy.
Season with salt and pepper.
The meat was so-o-o delicious and so-o-o tender. The gravy, yummy. We both had seconds!

Now, to the kale. I was thankful I had some canned kale in the cupboard. All I did was empty it into a pot, added a bit of extra water, and simmered it for about 10 minutes. Added the 'required' tablespoon or two of butter (just makes it taste great), seasoned with salt and freshly ground pepper.

Here's the improvisation: Normally to thicken, I'll mix some cornstarch with cold water and pour in just as much as needed. This time, though, I had a package of instant mashed potato flakes available. I just slowly poured in as much as the liquid would absorb. Quick, easy, and it mellowed the flavor of the kale so nicely.

To the meat, gravy, and kale, I served mashed potatoes and applesauce on the side. Even though it was a weekday meal, we felt like we were celebrating.
Cuba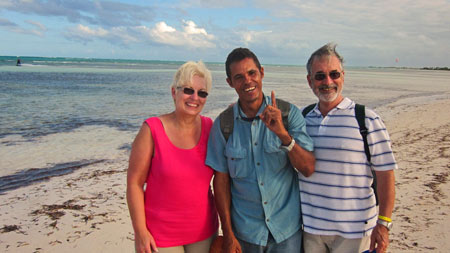 While we were in Cuba, (that's my husband, Andy, on the right, Wilson, our new Cuban friend, and I), we were so pleasantly surprised at how the food has improved at the resorts.

What one usually hears about Cuba is: a great place to go for rest and relaxation, but don't expect much from the food.

This time, though, WOW! We stayed at the Caracol in Santa Lucia. The food was amazing. Hot, delicious, constantly different. We so enjoyed it. We were totally surprised to have kasseler one evening.

At home, I buy the meat as chops and usually fry the Kassler and then serve with either sauerkraut or kale.

At the Caracol, the kassler seemed to come from a large boneless roast that was then served as sliced along with cabbage -- something to try at home.
Back Home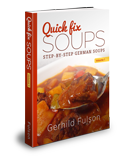 Back home in snowy, cold southern Ontario, it's been time to get back to routine.

Part of that was finishing off my first cookbook, Quick Fix Soups.

Yes, it's finally done!

All 84 full-color pages with step-by-step instructions, hints, "Oma says" and "a bit of this and a bit of that" sections to help you create those home-style soups you remember from your Oma and Mutti.

You can check it out at Quick Fix Soups and let me know what you think.


In the last newsletter, I mentioned I needed to make Roast Cream of Wheat Soup so I could also include that recipe with its pictures in the book.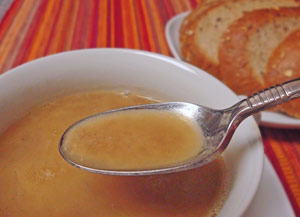 What a trip down memory lane that was.

I hadn't made this very traditional German soup since our boys were young, must be 20 years or so ago.

Don't know why I stopped making this. It's so quick, so easy, so inexpensive, and so tasty.

You'll find this soup, and many others, included in Quick Fix Soups.
---
Ok, that's it for now. Back to looking at some pictures of warm, sunny Cuba. It's -6 C as I write this, with winds howling at about 60 km/hr.

I think I'll finish off by including this lovely picture of the view from our room, just a few weeks ago . . .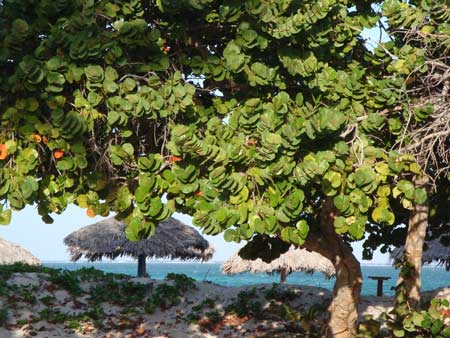 Be talking to you real soon,
Tschüss and keep warm,
Gerhild Fulson


---
If you received this email forwarded from a friend, why not sign-up for your own monthly copy of Quick Fix?


---