Quick Fix Recipes
Newsletter Issue #28 - April 10, 2013
Spring has Sprung
Hallo,

The calendar says that spring is here. Our daffodils and crocuses are making their entrance. Yesterday was sunny and really warm. Shorts weather. Today is a winter storm warning. That's Canada!

But, spring has sprung. The maple syrup is running. The spring flowers are coming up. Most days, the windows are wide open. The birds are twittering as they are building their nests. AND spring-cleaning is in the air!

My kitchen and my office, where I spend most of my time when I'm working on the Quick German Recipe website, is in major need of that spring-cleaning. Between the cooking and baking and picture-taking, I'm spending my time going from top to bottom to make everything sparkly. It just feels good!

So this newsletter has three main purposes. First to let you know the winners, that's right, winners with an "s" because there's a tie for first place, for the Easter Recipe Contest.

Second, I'm going to pass on many kitchen hints and tips I've received from readers.

Third, of course, some spring recipes.

First though, here are the winners:

Susan Harder from Manitoba, Canada, with her recipe for Paska Buns is a first-place winner. Susan runs Moms Recipe Collection.
As well, Eleanor Oliver from Washington, D.C., also wins with her Igel Cake.

Eleanor, can you please contact me through Contact Me form. I'm having trouble with your email to send you the cookbook.
Both of these ladies receive the Quick Fix Soups Cookbook. Congratulations, Susan and Eleanor!
Kitchen Hints and Tips
One of our readers, Roswitha Seeman, has sent in several recipes that have been shared on the website. Her Blueberry Fruit Tart has received rave reviews.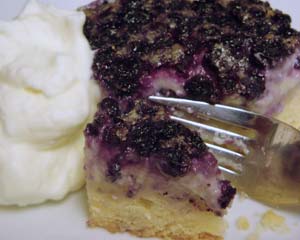 Roswitha also sent in lots of hints and tips that I want to share with you. These are not only for your kitchen, but for other areas as well. I think you'll find them a great help!


* When you don't have a funnel, a clean sheet of paper does the trick. Wrap the paper around your hand leaving a small hole for exit on one end, tape the paper to hold it together while pouring dry contents into small or large bottle.

* Household salt sprinkled around baseboards keep silverfish at bay.

* A small ceramic flower pot with bottom dish attached, makes a great dish to store your scrubbies/soap pads and sink stopper.

* Empty glass candle jars with snap on lids, cleaned, make great bathroom canisters for storing bath salts, bubble baths, Q-tips, razors, etc.

* Flat bottom coffee filters can be used to keep baking goods separate in gift boxes or cans.



* I always roll out dough right in the pan, using a clean empty jar as a rolling pin. This way the dough is nice and even all around and I don't have to wash my rolling pin.

* Those strawberry grippers are great for taking out those white egg umbilical cords.

* For all those Folgers coffee lovers, they make great storage canisters. Their snap on lids keeps the bugs and mice out of flour, rice, oats, etc. I love the grab on handles making it easier to hold the containers. To take the coffee smell out before using it, baking soda in water will do the trick, after putting the lid on.



* The coffee container with the lid and good grip handle makes a great portable potty for camping.

Roswitha's Hot Potato Salad
1. Wash and cut into halves 6 medium size potatoes. Cook for about 20 minutes or until potatoes are tender. Drain liquid from potatoes and dry by shaking pot over low heat. Peel and cut into 1/4 inch slices.

2. Meanwhile, dice and pan-broil 12 slices of bacon, reserving the bacon drippings. Set aside.

3. Chop 3 medium size onions (about 1 1/2 cups, chopped). Put 6 tbsps. of bacon dripping in large saucepan. Add onions and cook until it is transparent, occasionally stirring with a wooden spoob. Stir in 2/3 cup plus 2 tbsps. cider vinegar, 1 1/2 tbsps. brown sugar, 1 1/2 tsp. salt, 1/4 tsp. pepper, (1/4 tsp. celery seeds, optional).

4. Heat mixture to boiling over low heat. Add the diced cooked bacon to the onion-vinegar mixture. Pour over the warm potato slices and toss lightly to coat evenly. Cover and set aside to stand for 10 to 15 minutes for the potatoes to absorb the vinegar before serving. Makes a great combination for german sausages or smoked pork chops.



"This recipe has been has been a popular dish with my own family and I love making it for special occasions. Although my recipe book says 1 cup plus 2 tbsps. vinegar. I had to cut it down to 2/3 because it was too much vinegar (Those who like the strong vinegar taste, can add more to their preferences). I love adding celery seeds sometimes, it gives the salad a bit of a herbal bite to it. ENJOY!" Roswitha
---
Well, that's if for now. I hope you're following all the news on my Facebook Fan page as well.

It's my hubby's birthday today so I need to run to the kitchen and get busy baking and cooking. There's a surprise party happening in a couple of hours!

Be talking to you real soon,

Tschüss and keep warm,
Gerhild Fulson


---
If you received this email forwarded from a friend, why not sign-up for your own monthly copy of Quick Fix?


---