QUICK FIX RECIPES
Newsletter Issue #22 - November 6, 2012
Ratze Fatze Recipes
Hallo,

We've completed our "Quick Fix" tour through the many regions of Germany, looking at some of the culinary and cultural highlights in each. Now it's time for something a bit different.

BUT, before I start, I've got some really exciting news.

Our QUICK CHRISTMAS RECIPES CONTEST has started. Prize? A Canon PowerShot A800 Camera! You can enter as many times as you like. The BEST entry WINS! Check out Quick Christmas Recipes Contest for all the information and your entry form. Hurry and enter today!

Ok, here's what happened earlier this summer. I had an extended business trip to Germany (I live in Canada, so this is always a treat!) and posted the following on our FaceBook page :

"I've been staying at an amazing "Ferienwohnung" (Vacation House) in Sterdebüll, Germany. Cayen is an amazing woman who owns this little bit of heaven. She's been so wonderful to us, sharing her tortes and cream puddings to try. Then, she gives me binders and binders of her recipes to search through.

I'm busy, busy typing. A copier would be nice. But, typing it is. Looking forward to lots of cooking once I'm home. It'll be fun trying out her family favorites. She particularly likes recipes that are "ratze fatze" -- a real match for Quick German Recipes!!!"

So, now it's time to share some of these "ratze fatze" recipes. The words "ratze fatze" can't really be interpreted except to mean something like "super easy and super quick."

Many of her recipes were hand copies, or bits out of magazines, or from school binders. If you recognize any and can give credit, please let me know.

The first recipe is for Hawaii Toast. Now, I've had this at my German friend, Heidi's, house in Canada. I never really thought it could be German, except when of course, it's also among Cayen's recipes.
Hawaii Toast
("Hawaiian Toast")
4 slices toast, toasted
4 slices ham, on top
4 slices pineapple, on top
4 slices cheese, on top
Put under broiler till bubbly. (In other words, layer the ham, pineapple, and cheese on top of each slice of toast.)
That's really "ratze fatze"!
The next recipe I had at an outdoor grill in northern Germany at Anita's house (a German friend in Germany). She made an amazing goulash that I'll be sharing another time, but a bacon/prune appetizer is what I'll include here. At first, I thought it a bit strange to grill and serve this, but delicious it was. Then, I find the recipe among Cayen's papers as well.
Speckpflaumen
("Bacon Prunes")
1 prune, pitted
1 strip lean bacon
Wrap prune with bacon strip. Grill or fry in hot pan. Make as many as you need.
Anita did hers by threading the bacon-wrapped prune on metal skewers and grilling them. Delish!
Cayen suggested this next recipe as a really quick meal that even her grandkids love:
Bunte Nudelpfanne
("Colorful Noodle Pan")
1/2 lb. Spätzle (if not available, use wide egg noodles)
salt
1 onion, chopped
1 leek, cut into rings
4 cooked sausages or wieners (about 1 lb.), sliced
2 tbsp. oil
1 can tomatoes
salt, pepper, herbs to taste
Cook Spätzle in salted water until done, about 10 - 12 minutes, according to package directions. Drain. Heat oil in pan. Sauté onions until golden. Add leeks and sausage and cook briefly. Gently mix in cooked noodles. Cut tomatoes in can and heat separately. Mix everything together and season with salt, pepper, and herbs of your choice.
---
One of our readers, Marge, asked for a recipe for a "Beehive cake" or something similar to that. That request brought back such pleasant memories of my Muttis' "Bienenstich" (Beesting) cake, that I looked into a way of making this an easy cake. The usual cake is a yeast dough base with the "almond/honey" topping and filled with a custard cream. I wanted quicker, so mixing and matching recipes, I came up with the following recipe: Bienenstich.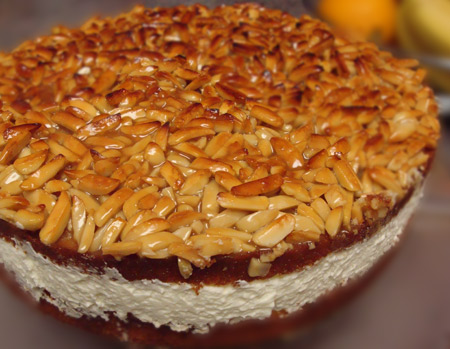 Another one of our readers, Flora, is looking for a recipe for Dominsteine, which is that amazingly delicious treat for Christmas. As you can probably tell, it's one of my very favorites as well. In fact, as soon as the Christmas goodies are available at the German Deli, I buy these.

But, for those not near a Deli, it'll need to be a recipe to make their own. A simple recipe is what I'd like. Anyone have one? If so, please share it!

I'll pass on some more of these "ratze fatze" recipes next month. In the meantime, it's almost time to start thinking about Christmas baking. I'll take a look and see what Cayen has that would make your Christmas baking and cooking so much easier.

Perhaps you have some "ratze fatze" recipes that you'd like to share. Just send them in and I'll post them. Please include any information you have about the recipe, pictures would be great, and where you got the recipe so proper credit can be given.
---
Quick Hints
My Quick HINT for this month is to clean out the freezer to make room for all that Christmas baking that's about to take place!

Any Hints to Share?
Let your fellow German cooks in on your kitchen tricks by submitting on Kitchen Hints. I'll post it on Quick German Recipes and also include it in the next issue of Quick Fix.

Remember to enter the QUICK CHRISTMAS RECIPES CONTEST for your chance to win a Canon PowerShot A800 Camera!

Even if you don't win, your recipe will be posted on Quick German Recipes for others to enjoy! Share the fun!

See you next month!

Tschüss!
Gerhild Fulson


---
If you received this email forwarded from a friend, why not sign-up for your own monthly copy of Quick Fix?


---